No One Likes the Word Moist
Derwyn Harris
Talkoot CPO and Co-Founder
A game-changer is born.
There are times in a person's career where you are part of something inspiring and innovative. I have been lucky during my 20-year career to have a few of these experiences but honestly, most of the day-to-day is focused on maintaining customer satisfaction or incremental progress through simple features and strategies. Like changing a light bulb or getting some new furniture. It's an improvement, but not a heart palpitating, loss of breath moment of joy.
Recently the Talkoot product and engineering team has been building up to one of these unforgettable moments. BrandCenter™. This new innovation isn't just a new piece of furniture in the Talkoot living room, it's a whole new addition. We really wanted to build something that would go beyond incremental improvements, something that would delight our customers and even surprise them. BrandCenter™, is a verbal identity engine that continually analyzes your product copy for incorrect terminology, banned phrases and clichéd marketing speak, then offers up legally-approved, on-brand alternatives. This central brain allows you to plug anyone into your content team and have them channeling your brand language from the very first sentence, ensuring the accuracy and consistency of your brand voice across every channel. It is first and foremost a resource for your team to find terms, phrases, and descriptions as they relate to your brand language. Where BrandCenter™ truly comes alive, is when it tirelessly works behind-the-scenes checking that your brand language is accurate & consistent, guides your users and provides feedback.
The idea of BrandCenter™ came from a combination of customer feedback and the recent industry shifts towards DTC, putting more and more emphasis on the product page and its content. Our customers are striving to achieve higher conversation, brand loyalty & engagement and this requires a company-wide focus on brand consistency. The most important and most difficult area to ensure this consistency is across the numerous product pages. Some customer feedback highlighted the need for what they saw as a glossary. And in many respects BrandCenter™ is exactly this, the difference is that brands are facing more challenges beyond just a glossary of terms. The challenges facing brands are broader and more complex, as they surround their entire story and identity. Making sure GORE–TEX is all caps with a dash is important, but how you talk about it must adhere to GORE–TEX guidelines and, more importantly, must adhere and sound like you. This difference is much more complex and that is for a single well-known term.
From your brand mission to your shopping cart or hangtag.
"Our lightest 3L GORE–TEX ski shell for turn-earning women who like to go deep and ski off the beaten path, the High Exposure™ Jacket boasts an articulated and flattering full-zip construction and GORE–TEX C-Knit™ — stretchy, durable and waterproof fabric with unparalleled breathability."
Here is their mission statement: "Performance means products purposefully designed, form following function, using the highest quality materials and technologies. Performance means providing users with better physical and emotional experiences through fit, weather protection, temperature regulation and moisture management."
Based on the mission statement, Mountain Hardwear is about performance, fit and quality materials. As a result, their copy tends to be more technical and concise. For them, BrandCenter™ would help monitor the use of technical terms and also look for too many fluffy terms or clichés that sound vague. The use of GORE–TEX is to highlight the technical aspects of the fabric, while also getting the all-caps and dash correct.
"Shrug off the storm, shift into high gear, and ride on. The women's Burton [ak] GORE–TEX Upshift Jacket combines trusted breathability and storm protection with a smart lining that responds to your body heat to help regulate your temp. The storm hood blocks out wind and snow without blocking your vision."
Mission statement (actually this is from their about us page):
"Everything we do at Burton started in the mountains. From getting the most out of every journey to chasing snow around the globe, we've charged ahead to innovate and change the way people enjoy the outdoors since day one."
Burton is more about the journey and experience. They use "your" whereas Mountain Hardwear refers to "turn-earning women". Burton talks about how something responds, while Mountain Hardwear is about fit and moisture management. For Burton, they might never want to use the word "unparalleled," where Mountain Hardwear is ok with it. GORE–TEX is less about the technology and more about trust and protection, again tying the jacket back to the person's emotion while wearing it.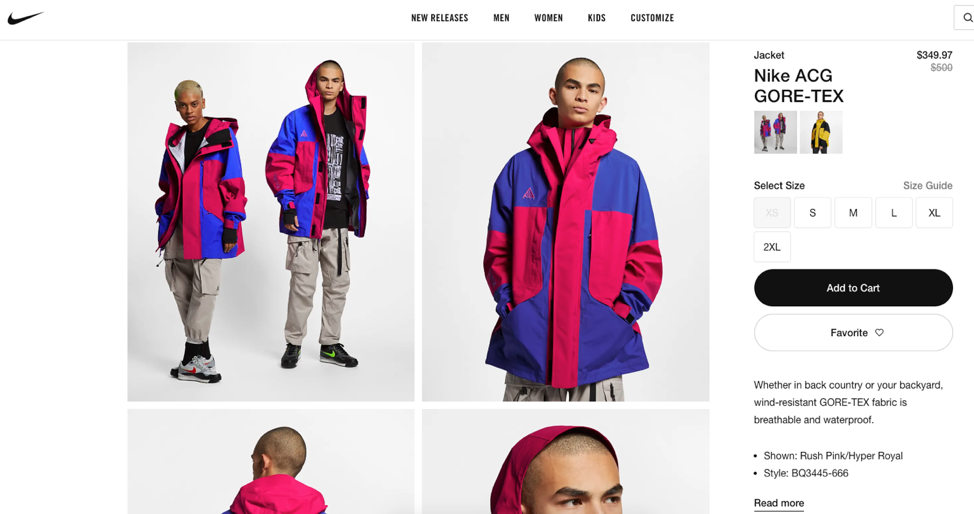 "Whether in back country or your backyard, wind-resistant GORE–TEX fabric is breathable and waterproof."
ACG mission statement:
"Ready to conquer or escape the urban landscape, Nike All Conditions Gear outfits you in modern wear that tackles the elements. Wind and waterproof fabrics and breathable technologies keep you covered, while next-level design equips you with versatile storage and style options."
Nike isn't the best example of brand aligned copy. While Burton and Mountain Hardwear's copy aligns with their mission, Nike's copy falls flat and feels robotic. If you look at the overall page, it's clear they have doubled down on images over rich descriptions and bullets. While images are important, the research shows that copy is a close second, but more importantly is a necessary and complimentary part of the imagery. Bad copy essentially diminishes all the hard work on the images. If you read the ACG mission it fits Nike's overall theme of winning and conquering. It's a missed opportunity.
There is a chance this missed opportunity is missed only because they don't have a good system in place to write the copy. But I'm speculating.
All of this is important because to do any of this at scale, season after season, is time consuming and chaotic. The goal of BrandCenter™ is to remove this complexity and free your team to explore and create.
What's in the secret sauce?
Custom Dictionary: Outside of the standard English or UK dictionary you might want to include 'doubleknit' or 'topstitching'. This wouldn't normally be in the dictionary, but are unique to your brand or your industry.
Brand Terms: Each company has their own set of brand terms, as well as a slew of industry terms. These typically require stricter guidelines than a regular dictionary word. For example, OrthoLight™ must always have the correct capitalization and the "tm" must exist. Talkoot will ensure all your specific Brand Terms are accurate. But here is the kicker… GORE–TEX, as a technology and a brand has it's own guidelines, but clearly each brand has decided to apply their own voice to sound unique while not going against GORE–TEX. This is where BrandCenter™ goes beyond just capturing terms, BrandCenter™ also allows teams to provide examples and definitions that writers can use when writing to both adhere to GORE-TEXs core value and your brand's identity.
Banned Terms: Some words are simply not wanted.  Words like friggen, kickass, or moist. Each company has very different lists. You can also include banned phrases such as "you're sure to love". In the examples above, Burton might ban "unparalleled". Banned words are an effort to get away from outdated idea that seeps into the culture and can be very difficult to eradicate. Other reasons for banned words can be to not sound like another brand. Because Nike is so focused on winning, fighting, and conquering, these might be good words to ban to avoid or remind folks not to go down that path which would alienate and confuse your customer base.
Clichés: Monitoring and cleaning up words by themselves is helpful in a consistent and accurate brand language, but clichés and entire desirable or undesirable phrases can also be tracked and monitored.
Categories: This is the BrandCenter™ secret sauce. The reality of a brand is that there are brands within brands. Disney has Star Wars and Frozen, adidas has footwear, apparel, adults and youth. Even summer vs winter might have unique brand language rules associated with them. The products sold for each have their own unique language. Your banned words, brand terms, clichés and definitions might overlap but in many instances don't overlap or have different rules teams must be aware of.
Shed rounds of review, last-minute rewrites and eliminate frustration within your team.
Our goal with BrandCenter™ is that as your brand evolves, it too can adapt and learn. The idea is once you feed BrandCenter™ a set of information, it will continually build and evaluate your language. There are multiple levels to this where a feedback loop between your team and BrandCenter™ will build a stronger voice and thus a stronger alignment between your core values and how you talk about your products. Our hope is that BrandCenter™ both improves how a company utilizes their unique brand language, but also further accelerates  how fast teams can generate rich, dynamic, and on-point product descriptions that increase conversion and build loyalty.