5 Outdoor Apparel DTC Brands Telling Exquisite Stories (And How Product Information Systems Can Get You There)

"Stories sell!"
This vague truism is the branding or marketing equivalent of, and about as actionable as the other greatest hits like "eat less to lose weight" or "this logo needs to pop more".
Storytelling is hard but can deliver rich rewards to brands that are able to crack the code.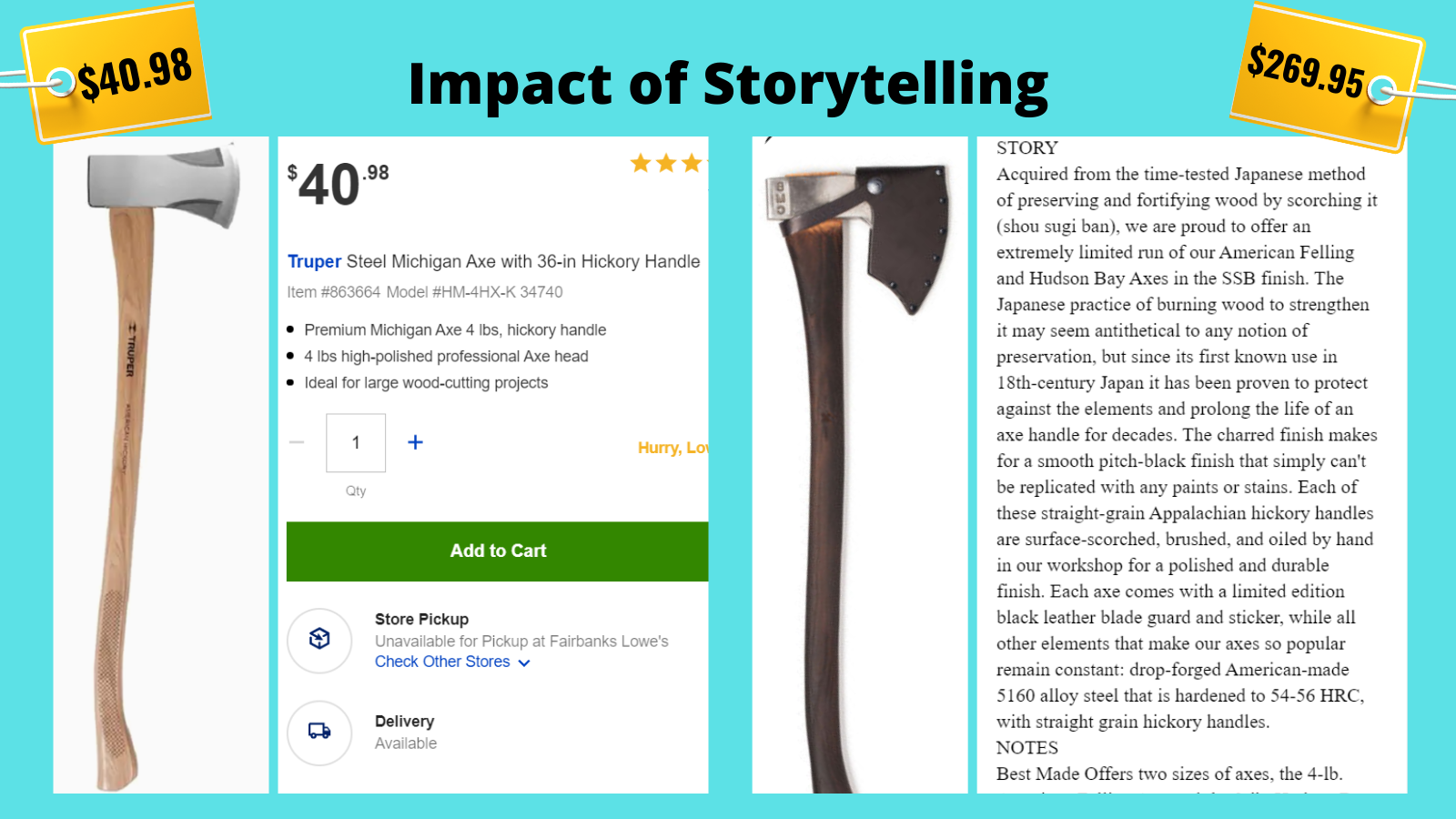 Wild, right?
In this post, I am going to cover 5 DTC brands in the outdoor apparel space that have done a great job using storytelling to build their brand and earn customer love.
And while it's very simple to keep your story straight when you have 15 or 30 products in your inventory, I am also going to show how you can wow customers with great stories even if you have 1000s of fast moving SKUs with a product information system like Talkoot.
The challenges of storytelling, and the promise of a 
PIM
Consistency is one of the key ingredients of a great story, and when you lose it, your story goes off the rails.
For instance, consider Dany's character arc in the burning dumpster fire that was the last season of Game of Thrones.
She abruptly mutated from a smart and compassionate queen to a genocidal pyromaniac in the space of an episode.
The DTC equivalent of this inconsistency would be lovingly written captions in Instagram while the product description is a one-line curt description with few specifications, like this:

In a majority of cases, this dissonance isn't for the lack of trying.
When you have an inventory with 1000s of SKUs in a fast-moving category like fashion you:
Have to balance the business requirement to push products online vs. spending time to craft well-written product pages.
Can't afford too much back and forth between multiple stakeholders when you need to make changes to content.
May not have the bandwidth needed to constantly check and recheck product and brand content for consistency across multiple platforms.
But that tradeoff can hurt the bottom line:
A Nielsen study found that

 

20% of users failed to complete a purchase when asked to do so because of limited product information.
According to the Field Agent Digital Shopper Report, 82% of shoppers

 

feel the product descriptions are extremely or very influential to their purchase decision.
This situation demands a solution like Talkoot, a product information management system designed primarily for DTC fashion brands.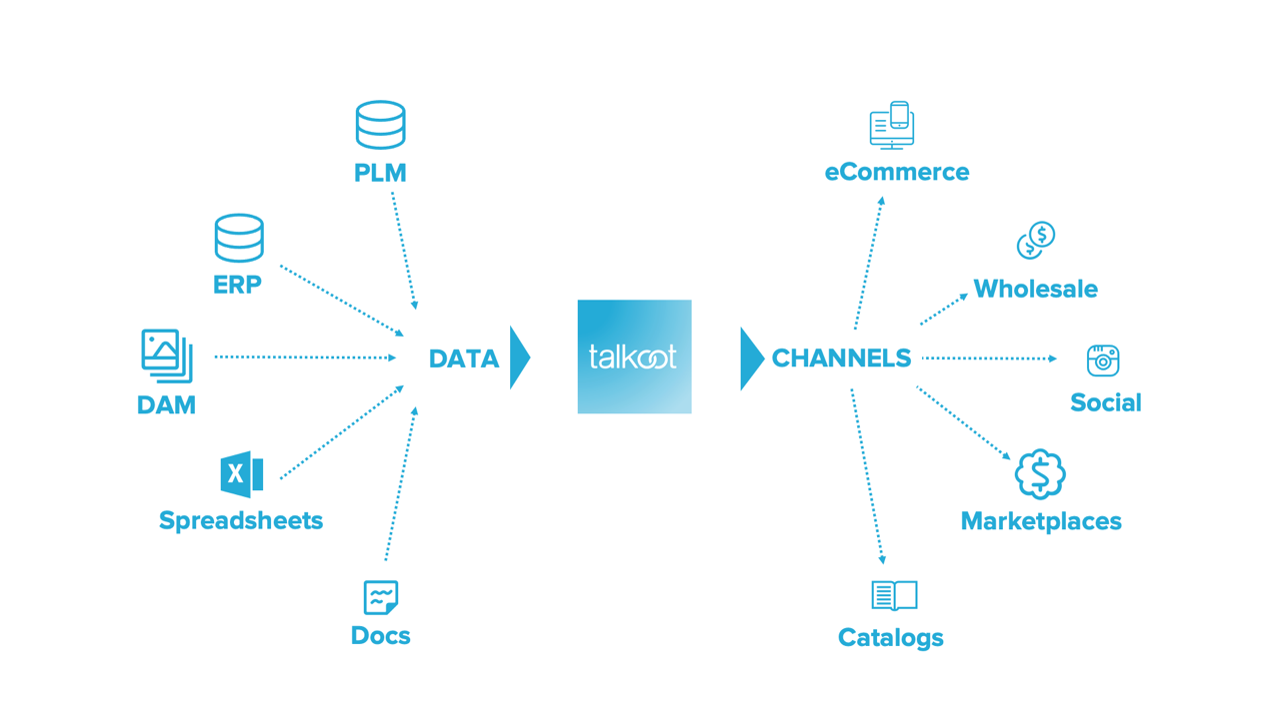 The beauty of Talkoot is that you can pull raw product information from multiple sources, craft and polish your content in a central location, and push/update it automatically to all channels.
It helps keep your product and brand story consistent, even if you have to update hundreds of  SKUs on average every day.
Use this
 

Google Docs cheatsheet

 

to collect the information needed for you to create standout product stories
Storytelling in the outdoor apparel space
For the scope of this article, we are considering DTC brands that sell products for outdoor activities like adventure sports, hiking, running, etc.
Because this space attracts nature lovers, most brands seek to highlight their green credentials, and for most people sustainability is non-negotiable.
Brands also focus on community in their storytelling because outdoor sports are a social activity.
1.Mammut
Most of Mammut's product pages do a great job talking not only about the features of the product but also why they are important.
Take this section on the product page for a belay device that's used in climbing to secure ropes.
Notice how the copy delves deep into addressing user anxieties in a possible life-or-death situation from the point of view of an actual climber, replete with climbing jargon, to give the user confidence in the product?
They have done an amazing job with category pages as well.
The climbing ropes page, for instance, has great product content, copy that focuses on the primary job to be done (safety), and appropriate imagery while maintaining a distinction between different product types (alpine ropes vs gym ropes).
The brand devotes plenty of space to telling stories around the community (Alpine School) and around the topics of sustainability and carbon footprint.
The icing on the cake: their blog, appropriately titled Stories, talks less about products, and more about people.
The PIM boost: With a solution like Talkoot, you can efficiently take the language used by customers, users, and product ambassadors across different platforms and weave them into your product and brand copy for higher impact and conversion rates.
2. Houdini
Houdini pours its heart out on product pages, telling stories that evoke desire, curiosity, and a need to know more.
Sample some copy from a product page of a parka:

Don't tell me you don't want to read more about the backstory?
We have:
Explanation on why different features exist in terms of situational benefits for the wearer
Language that eases anxiety around the suitability of the product in different seasons.
Copy that highlights the green credentials of the product- environmentally friendly alternative to fleece, and recyclability.
In case you have doubts or misgivings, the additional detailed sections on technology, product care, sustainability, and shipping should clear everything up.
Want more information? How about a video with the line "Can you eat sportswear?" in the thumbnail.
Houdini has other pages on its website that talk about their Swedish heritage, their rent and recycle program, and their design philosophy, as seen from this screenshot of their top navigation.
The PIM boost: With a product information management solution, it becomes super easy to make sure that product specifications and descriptions stay the same across Instagram, Youtube, packaging, or product pages for the same product, at scale.
3. Western Rise
Unlike Mammut and Houdini's storied heritage, Western Rise is a new DTC brand with a single-minded focus on men's activewear.
They embrace the minimalist ethos, in both look and feel as well as product design.
I love how they use pictures to tell stories: instead of just telling you the fabric is water repellant, they demonstrate it with this picture: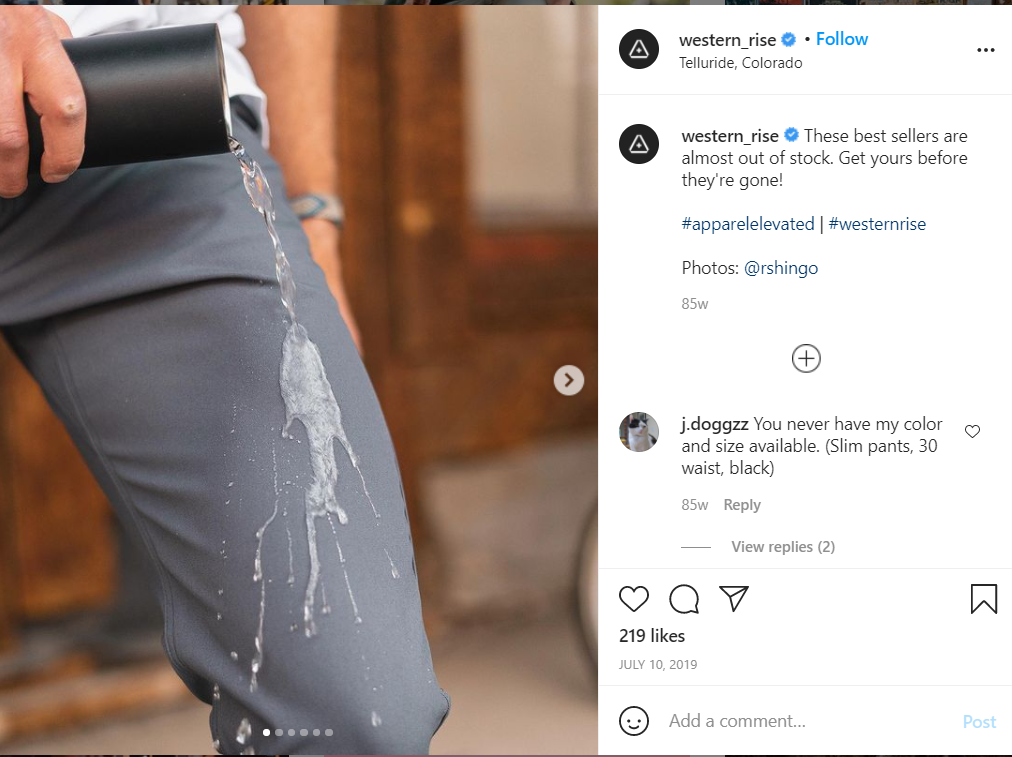 And instead of talking about how  stretchable the fabric is, their product page has this image:
Western Rise's product pages are a demonstration of how image-driven storytelling can make a massive impact.
Check out a section of AT Slim Pant page: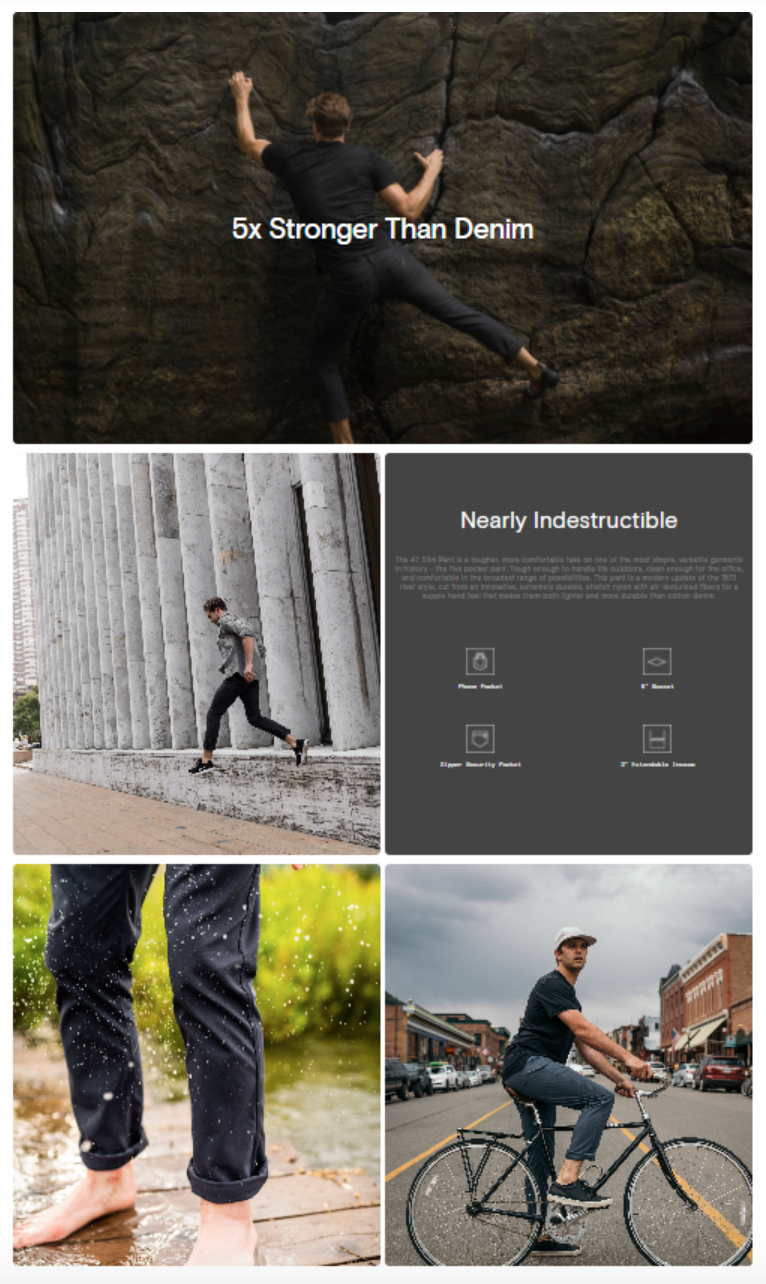 I love how they showed off the versatility of this product using images: from rock climbing to cycling to getting your legs wet, the AT Slim can handle it all, in style.
The PIM boost: Using the same image in your Instagram ad and your product description can boost conversion rates. With Talkoot, if you are running ads, you won't have to hunt through image folders for the right image or video at the right resolution or send a frantic last-minute email to the product team.
It's all there in one place.
4. Cotopaxi
Cotopaxi embraces a narrative right from the tagline in its SEO headline: "Gear for Good".
While its site has many of the similarities with Mammut or Houdini in terms of content around sustainability, behind the scenes look at the manufacturing process and design philosophy, I want to include them in the roundup primarily because of their product pages.
In two words, magnificently comprehensive.
Check out this screenshot of the lower half of a product page for a jacket.
The page mixes just the right amount of storytelling with useful information which incidentally also persuades people to consider the product and follows the "structure product pages by highlights" recommendation of Bamyard Institute for boosting user engagement.
This product page:
Talks about why customers should get this product to do: a jacket that can be used for all seasons, with both copy and imagery.
Addresses consumer anxieties (various pockets to stow essentials, additional insulation against the cold, lightweight).
Ticks the boxes on environmental friendliness and responsible manufacturing practices, giving the consumer peace of mind that they are not subsidizing geese slaughter or slave labor.
The PIM boost: High-level, strategic content like this typically lives in Google docs or is interspersed through PPTs that needs considerable effort to collate even before you can start writing copy.
With Talkoot, you just need a few clicks to access all docs in one place and save yourself the drudgery of searching through folders and files.
5. Backcountry
Backcountry has its roots in the winter sports scene of Utah.
I have included them in this list because their product pages do a fantastic job of storytelling by using demo videos to highlight the features and benefits of the product.
For instance, check out the video on a product page for a skiing jacket.
These videos are a customer favorite, as evident from some of the highest conversion rates when run as ads.
But Backcountry doesn't just rest its laurels on video content.
Look at this section of product copy: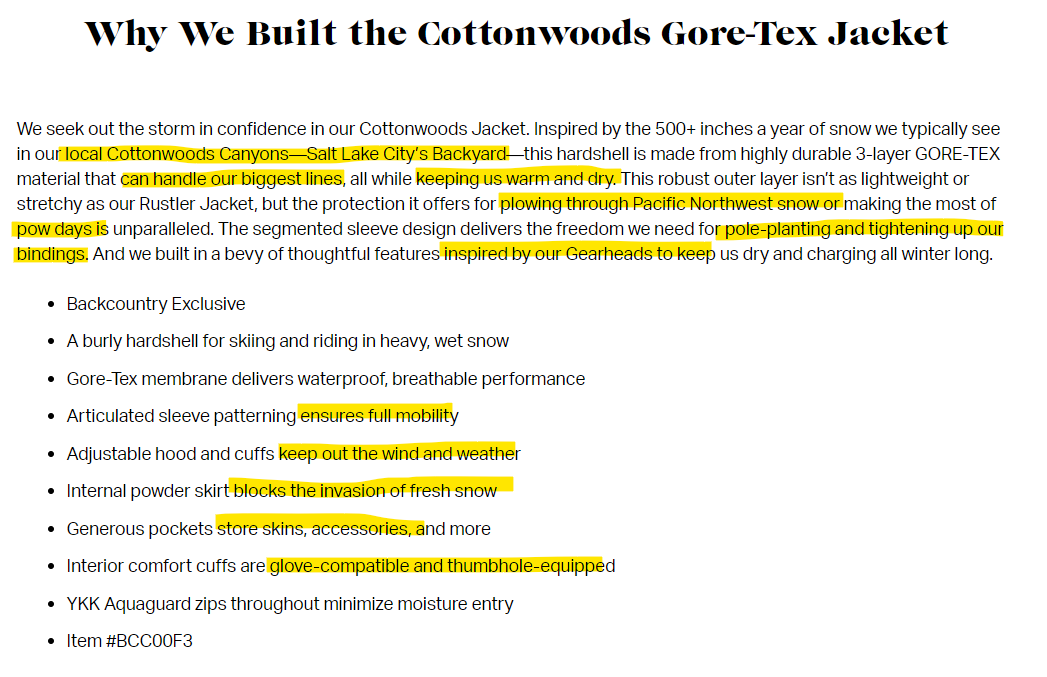 Right off the bat, you will notice:
The specificity in the product copy in terms of locales gives the customer confidence that this product will work well in heavy snow.
A smattering of jargon around skiing and snowsports, that tells the customer that the brand knows its stuff.
Easy to understand product benefits in specific scenarios.
This copy alleviates customer anxieties, and supported by multiple user reviews makes it easy for someone to make a buying decision.
And in case the customer has more misgivings, all she needs to do is chat up a Gearhead (Backcountry's term for in-house product experts) for a personalized buying experience, either on the phone or through live chat right from a product page.

The PIM boost: If you offer live chat, it can be a lifesaver to have specific information about all products easily accessible to your agents in one central location.
They can quickly answer relevant questions without keeping would-be customers on hold for long, improving the brand experience.
Building customer loyalty with stories
Look, investing in storytelling and streamlining your content workflow can seem unnecessary at first, especially if you are already getting regular sales and things don't seem to be broken.
But in today's fast-moving world of fashion and apparel, customers will stay loyal not only based on prices or even product quality but primarily on how they feel about your brand.
Patagonia is a prime beneficiary of this phenomenon in the outdoor apparel space.
And this is where storytelling can be your ace up the sleeve, building an unbridgeable moat that will turn casual web visitors into loyal customers.
So you need to tell stories consistently and make the workflow as hassle-free and painless as possible at any scale. Book a free consultation and let us show you how.
Love their focus on storytelling, scarcity, and DTC! Nerdy Nuts — a small peanut butter company in South Dakota — grew from $1k to $500k in monthly sales in just one year.@zzcrockett broke down how they did it.https://t.co/ApEuSzR3U8

— Becca Ritz (@bauerhaus) October 19, 2020
At least you knew Joffrey was a petulant, murderous boy tyrant from the get-go