What Would Give DTC Brands Their Highest Returns In 2021: 8 Experts Weigh In

"Where should DTC companies invest the most if they want the highest returns in 2021?|"
I reached out to a diverse group of people from the DTC ecosystem for an answer, and heard back from founders, investors, industry analysts, and operators.
The answers covered a wide range of perspectives based on their experience, and the responses can be implemented potentially by any DTC brand.
Read through the answers, and start implementing the one that seems most relevant to your situation.
Let's get started.
1. Scale your Facebook ads with profitable growth: Aaron Orendorff,
 

VP

 

of Marketing at Common Thread Collective

As the VP of Marketing at eCommerce growth agency Common Thread Collective, Aaron Orendorff has access to performance data on seven and eight-figure Facebook ad campaigns.

Aaron prefers  CBO (campaign budget optimization) campaigns over setting budgets at the ad set level.

Furthermore, he suggests that you "build SKU-specific (product-by-product) or collection-specific (buyer-type-by-buyer-type) funnels for the lion's share of your paid media" and "put both prospecting and remarketing in the same ad sets".

This video lays out the structure of a Facebook campaign set up according to these principles.

This "consolidated account structure" has been instrumental in the profitable scaling of Facebook campaigns for CTC clients and in house brands because it:
Offers the fastest escape route from Facebook's learning phase (so that ads can start driving qualified traffic).
Forces you to abandon single account

 

ROAS

 

goals that hide true profitability (and help you truly understand better the unit economics of your business).
Lets you track returning customers by first-product purchased (i.e., via campaigns) to unearth how much specific cohorts are worth you within tight payback windows of 60-90-days.
Implementing Aaron's advice will not only make your advertising dollars work harder but will give you better clarity on the products and customer segments that are the most profitable for your business.
2. Build a content first
 

DTC

 

brand: Jaime Schmidt, founder of Schmidt's Naturals, author and investor

Jaime Schmidt started selling natural deodorants in farmers' markets in 2010 and sold her company to Unilever for nine figures in 2017.

These days, she is helping level the playing field for startups and entrepreneurs with content and community through her media company Supermaker (Last year, her book, also named Supermaker- a manual for bootstrapping to startup success based on her own experience- was released).

When I asked Jaime about the one thing DTC brands should invest in to get the highest returns in 2021, she went with content.

According to her, brands should share user-generated photos and videos to encourage interest and engagement.

"Videos from the brand's founder or other influencer sharing product features and industry expertise, which could live alongside product listings or on the checkout page to support conversions," she says.

While the advice on UGC and founder videos has been repeated ad-nauseam, I found her take on adding videos to the checkout page unique.

For instance, if you were to see this video on Huan's checkout page, you are very likely to complete the checkout process.

This tip has the potential to drastically reduce the cart abandonment rate, saving brands hundreds of billions of dollars that they are losing out because of the average 77.13% cart abandonment rate.
3. Establish a direct relationship with your customers: Ben Jabbawy, founder and
 

CEO

 

of Privy, the highest rated app on Shopify

Privy helps Shopify and Wix merchants grow sales through email and text. It's the highest-reviewed Shopify app and has driven more than $5 bn in sales for 500,000+ companies in 180 countries.

Privy knows a thing or two about DTC growth, so I reached out to Ben Jabbawy, its founder and CEO, to find out what he thought was the highest impact activity for an eCommerce company in 2021.

"In the constantly shifting landscape of privacy and social media algorithm changes, the ONLY thing brands can count on is building direct relationships that they own," Ben responded.

Elaborating, Ben said, "You pay to drive traffic to your store. You know that only 1-3% converts. So you need to build email and text-based relationships with prospects to nurture them back to the site."

According to Ben, DTC brands can control their destiny and unlock magic (and revenue) through email and text if they get in the habit of building a list early.

Who wouldn't want to be free of the capricious whims of inscrutable algorithms?
4. Offer unique experiences and offset expensive last-mile costs through owned retail: Jon Bostock, founder of Truman's
Truman's is a DTC brand that sells nontoxic cleaning products for laundry, bathrooms, and kitchens.
According to Jon Bostock, founder and CEO, the one area where DTC brands should invest in for maximum returns in 2021 is owned retail to offset expensive last-mile costs.
"Owned physical can help you deliver unique last-mile experiences and create a brand halo. Brands needn't go for expensive or exclusive locations for the first outlet: they can operate out of second or third-tier markets."
His advice might seem counterintuitive and goes against the online-only operating model for most DTC brands.
But Jon might be on to something.
The pandemic has drastically slashed the rates of physical real estate and for the right brand, now might be the most viable time to set up a brick-and-mortar presence.
Couple that with Shopify research which shows that 46% of US and Canadian shoppers bought from local, independently owned businesses since the pandemic started, and you have a business case for not neglecting physical retail.
5. Drive growth using Facebook ads featuring
 

UGC

 

assets: Andrew Faris,

 

CEO

 

Bambu Earth

Despite the current uncertainty around iOS14 privacy updates, Andrew Faris still swears by Facebook ads as an "almost magical tool for scaling consumer brands rapidly and profitably."

But these ads need a specific type of asset to deliver: user-generated content, like this Instagram post.
As the CEO of Bambu Earth, a skincare DTC brand, he tells me that he has seen Facebook ads to UGC generate huge returns at scale.
For brands looking to source UGC, Andrew gives three options:
From customers.
From online services that will give you product videos for around $50 per ad.
From influencer outreach through influencer marketing agencies like Kynship.
"These methods give you the ability to generate tons of content in automated, low-touch methods at a minimal cost. My team is also automating our post-purchase UGC process, and once that's done, I'll get tons of this content very quickly," Andrew says.
6. Listen to customers: Kristen LaFrance, Head of Resilient Retail at Shopify
Kristen has launched her career on building one-on-one relationships with people (she hosts the popular Resilient Retail podcast over at Shopify) and it's no surprise that she advocates the same strategy for brands as well.
"Invest in customer relationships. Calling customers 1-1, gaining quantitative data on the people you are serving" is her prescription for what brands should be doing the most in 2021.
Kristen's advice on talking to customers 1-1 may seem unscalable, but a few customer interviews, each about 30-45 minutes long, can uncover deep insights that automated, low touch methods like A/B testing, heatmap analytics, or mining Amazon reviews will miss.
Talking to your customers is even more essential in 2021 because the pandemic has drastically changed customer behavior: a McKinsey report, for instance, predicts that on-the-go consumption will be reduced, while customers will experience a shakeup in the hierarchy of needs.
You can use these insights to tell better customer and brand stories on your website, product pages, and social media, and firewall yourself from the risk of getting irrelevant.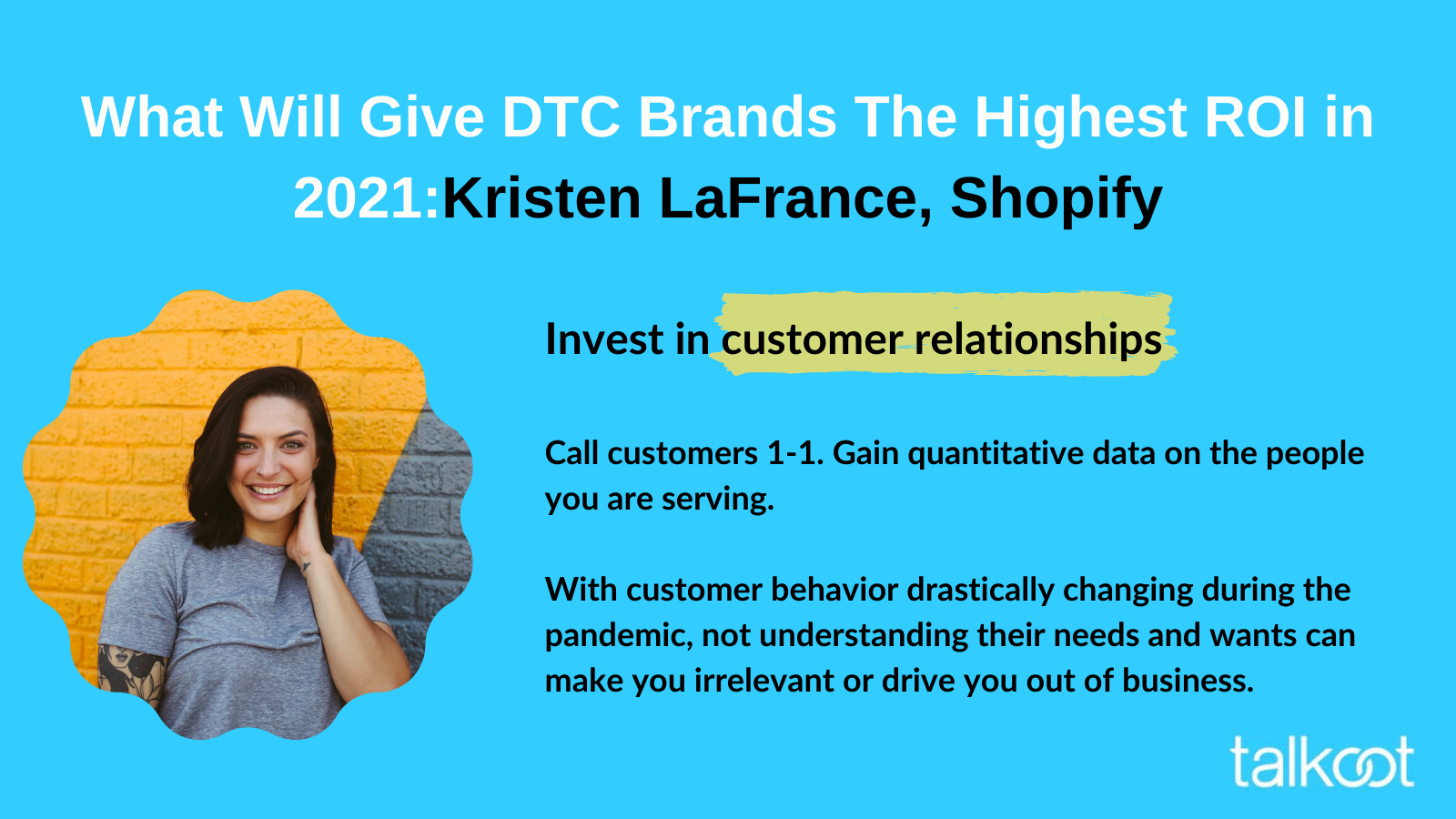 7. Quit depending on Facebook/Google for sales, embrace your community: Amanda Goetz, founder House of Wise
For the vast majority of DTC brands, the automated algorithms of Facebook and Google extract an almost impossible to avoid tax in the form of paid ads.
Amanda Goetz, founder and CEO of House of Wise, a for women, premium CBD wellness brand has a workaround: community turned affiliates, which translates into current customers driving new customer acquisition and sales because they are ethically incentivized to do so.
"I believe companies will figure out ways to ignite their brand loyalists into a revenue-generating salesforce, " Amanda replied when I asked her what DTC brands should focus on the most in 2021.
This is a smart strategy: after all, 46% of US adults are influenced by word of mouth when making buying decisions, while only 28% are influenced by ads.
"Revenue generating salesforce" might sound like MLM, but House of Wise doesn't push its customers to recruit a sales team, and you should not too.
Instead, get inspired by how Dropbox grew virally in its initial days by giving users something coveted: more space in their Dropbox folder for every new signup off their unique referral link.
If you want to implement this strategy for physical products, you should check out HoW's incentive structure.
8. Optimize your conversion rate: Nik Sharma, investor and
 

CEO

 

of Sharma Brands

Nik Sharma has been responsible for helping multiple DTC brands launch and grow and as an operator and investor, he has a unique perspective on challenges faced by brands in 2021.

For Nik, once your brand, product, value proposition, and storytelling are in place, increasing the on-site conversion rate can be critical to improving revenue, and survivability.

And since the average conversion rate for eCommerce is only 1.94% (IRP Commerce, Jan 2021) you have a long way to go.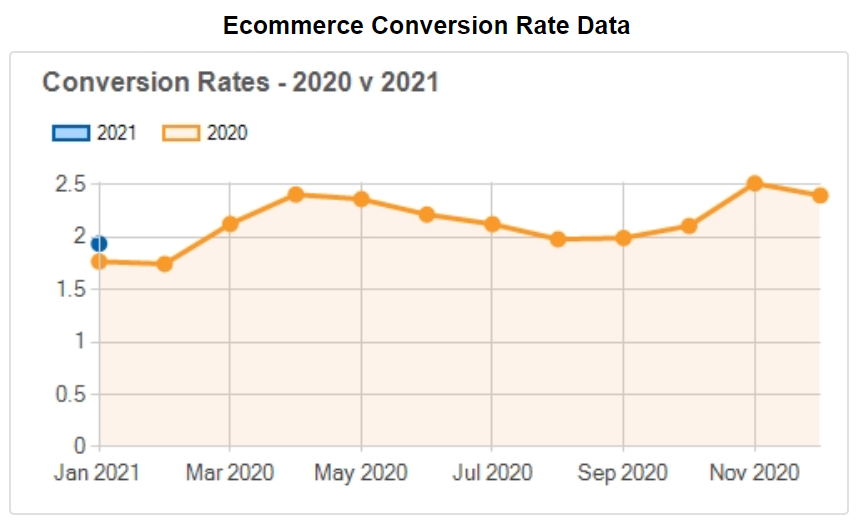 "You have to treat your customer like they're Kim Kardashian on a red carpet, and you, as the brand, are the assistant with her. You need to have everything ready for your customer to read, understand, and learn about the brand. You cannot expect them to navigate around the website and learn for themselves," Nik says.
He also suggests testing the site's messaging, navigation, and checkout flow with people who have a couple of drinks in them, and older people like seniors to understand just how user-friendly and accessible it is.
Summing up
Building and growing a DTC brand in 2021 can be both challenging and rewarding.
Covid-19 has drastically changed consumer habits in ways that are still hard to understand.
Amidst this chaos, many ponderous companies will fail while nimble brands with a focus on understanding customer requirements will flourish.
However, there is a danger that brands might go on a wild goose chase and lose focus on improving core business metrics.
We hope that the advice in this article will give you a roadmap for making 2021 better than 2020.
Discover how to maximize your impact with Talkoot. Our content experts will show how you can:  
Make your content teams up to 4x more efficient 

 

Save time and money on content production 

 

Practically eliminate content error rates 

 

Raise conversion by 10% or more

 
Bullish on email, again, in 2021.

Value of an email contact rose from $16 in 2019, to $33 in 2020. (From Privy data across 80M email contacts).

Intent via email is incredibly strong. This is from @Shopify BFCM 2020. pic.twitter.com/OhleICdbVH

— ben jabbawy (@jabbawy) January 4, 2021
This is a very specific example with only one (!) piece of customer insight, but you can already see how digging juSt a bit deeper can unlock so much marketing potential. pic.twitter.com/fRTGxbO4C3

— Kristen LaFrance (@kdlafrance) October 2, 2019