The Power of Storytelling: How These 3 Footwear Brands Are Winning The Market

Footwear has been one of the few industries where the incumbents—Nike, adidas, etc—have taken to the DTC model like ducks to water.
Nike Direct, Nike's DTC play, earned $21.3bn at the end of FY23 (Nike's total revenue for FY23 was $51.2bn).
adidas predicts that DTC will account for 50% of sales by 2025, up from 38% of sales in 2021.
This intense focus on DTC is reflected in the dominance of the 800 pound gorillas in internet traffic, with Nike.com taking 25% of all web traffic, while Charm.io ranks Nike as the fastest-growing DTC shoe brand.
What's the road ahead for smaller footwear brands? It's not just enough to have a pretty website or run profitable paid ads.
The answers will depend, but these 3 footwear brands, rapidly growing, can give some clues.
The Global Footwear Market: An Overview
After being buffeted by the pandemic and accompanying supply chain disruptions, the footwear industry has bounced back and is now projected to grow at a CAGR of 5% and hit $314.2bn by 2028.
However, in the near term, consumers have tightened their belts, and are prioritizing costs over loyalty as inflation fears loom while still expecting good service from brands.
A survey by Alix Partners found that: 
About 60% of customers will switch shoe brands if they get a cheaper alternative.
Nearly 80% of customers will switch stores if they get their favored style/look elsewhere.
89% of customers expect free shipping and free returns.
As these numbers highlight, customers want more options in style and comfort, a frictionless shopping experience, and yet lower prices.
Shoe brands will need to innovate, ship new SKUs and categories, and keep tight control of their operations while building deep relationships with their customer base.
The 3 brands in focus have done all that and more in different ways. 
Hoka
Hoka began life as a trail running shoe, designed to help athletes run up and down mountains in the French Alps.
From such super niche beginnings, Hoka is now mainstream, from grandfathers to Britney Spears patronizing their oversized, "ugly" sneakers.
Quick facts about Hoka:
Hoka has been called a growth-beast by analysts, and they are not far off.
So, how does Hoka manage such scalding growth rates?
Their product page can give some answers.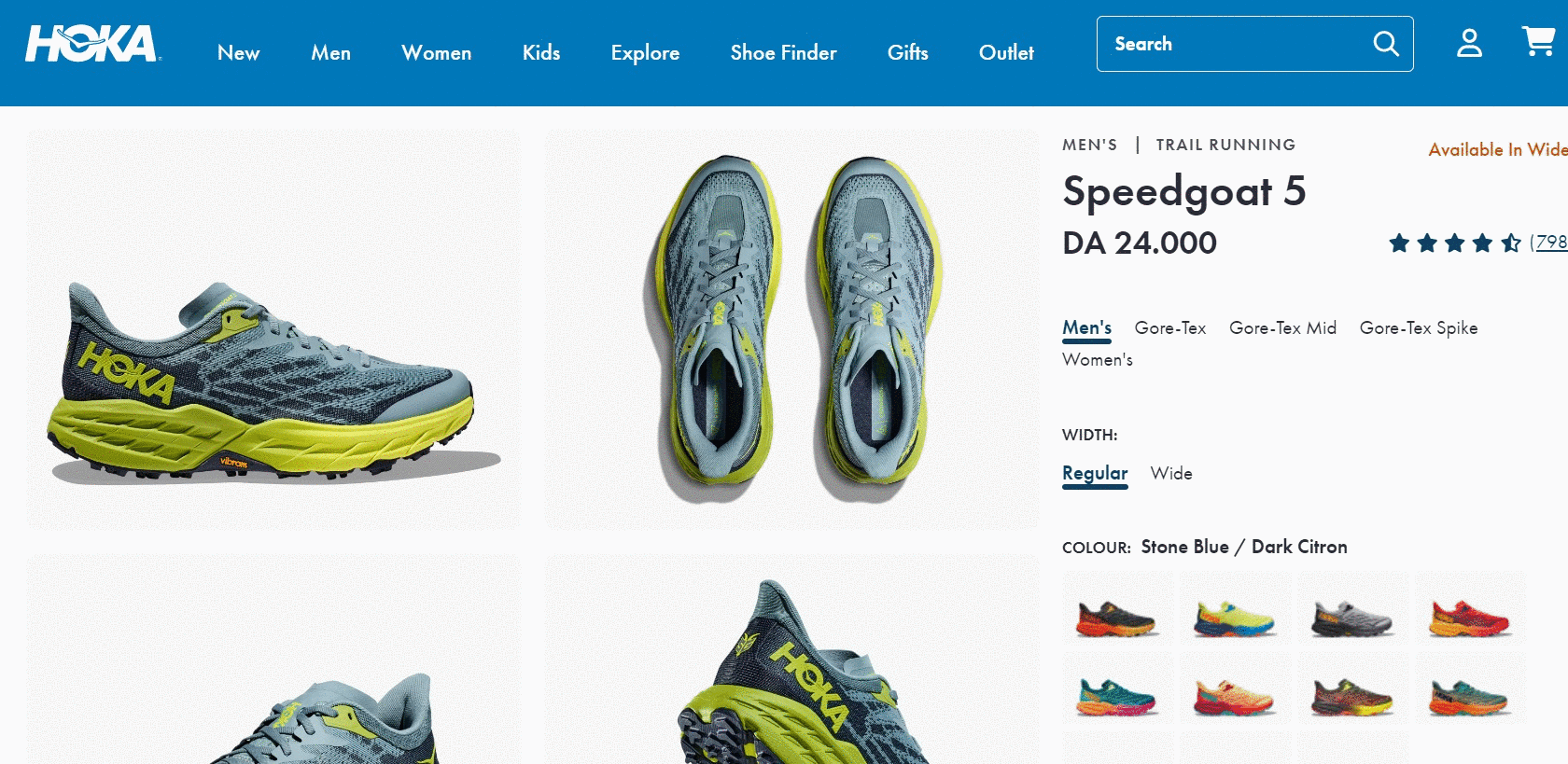 Hoka:
Uses detailed descriptions, videos, and infographics to describe the different technical aspects of their product
Uses gorgeous imagery to bring the shoe to life
Compares and contrasts with related products to give the consumer more context.
Uses FOMO by running limited production runs, and getting people to sign up on waitlists (more of this later)
This level of detail in the product page takes a lot of work and makes Hoka stand out from an ordinary footwear brand.
This growth is obviously backed by Hoka's robust engagement with the running community, with its support for athletes and partnership with events like Ironman. 
If you want to boil it all down, Hoka's growth can be attributed to a vision of creating a shoe that delivers on both comfort and performance and putting it in front of the right customers at the right place. 
According to Deckers Brands' (owners of Hoka) CEO Dave Powers:
We created a new category in the running space at a time where running was getting stagnant….because it's not just about runners, it's about everyday people who want comfort and performance…running is critical…(but) adoption across all demographics, in fashion and performance — that's where we're going to see some lasting opportunity…For Hoka, customers don't just like the brand because of how it looks; they love the brand because of what it does for them.
Hoka smartly saved itself from peaking too early by not succumbing to a growth-at-all-costs mindset and adopting FOMO everywhere, not just on the product page. 
From a story in WSJ:
"The success of Hoka was also made possible by the brand's counterintuitive business strategy. It turns out Hoka grew fast by moving slowly. 'Could we grow faster? Yes,' said Caroti, Deckers' chief commercial officer and Hoka's interim president. 'Is that good for the long-term health of the brand? No.'"
On its path to $1.4 billion in sales, the brand moseyed from running shops to outdoor specialists like REI to large retailers, though executives actually turned down the opportunity to move Hokas into Foot Locker before the pandemic…By last summer, the brand's awareness was high enough that it was ready for one of the country's biggest sneaker chains.
Takeaway: Hoka has doubled down on it's "ugly"reputation, and that makes them authentic and distinct and helps it stand out from the competition. This has helped it create a category, and powered its growth to revenues of $1B+ in less than a decade. 
On Running
On Running is a Swiss sneaker brand founded in 2010, and like Hoka, they gained initial traction in the endurance running niche.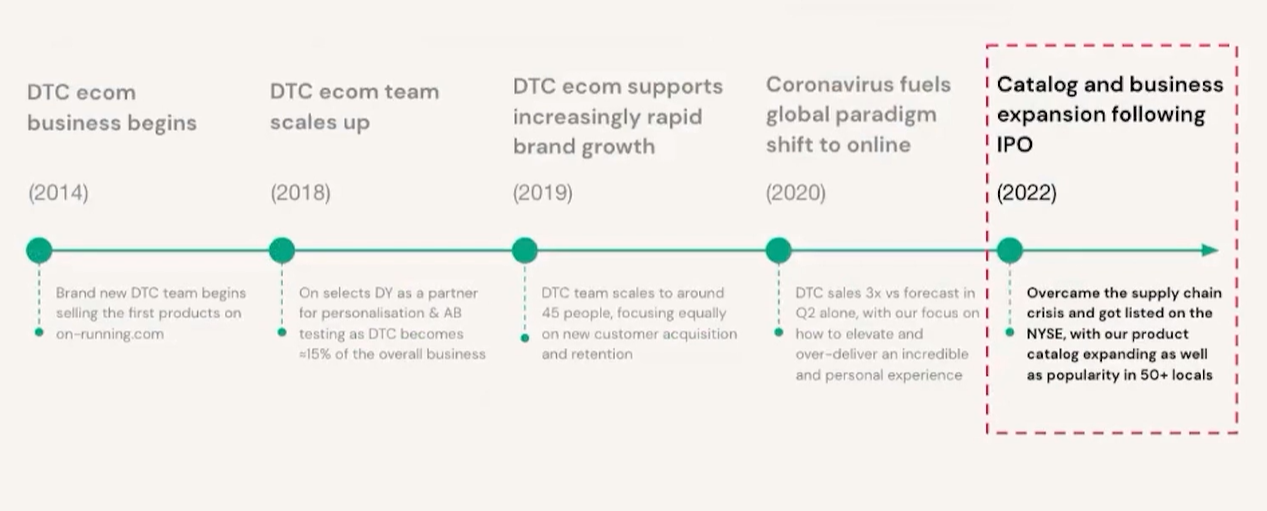 On's journey
It is now one of the fastest-growing footwear brands in the North American market, and it is one of the few brands to post positive growth at 66.8% in Q2 23.
It is projected to grow to revenues of more than $2bn in FY23.
Clearly, On is doing something that the likes of Skechers, adidas, and Puma have not been able to do.
According to Britt Olsen, On's GM of Americas and head of global commercial strategy, product innovation is one of the reasons for this growth rate:
On delivered six new performance shoes in just 24 months, which has helped it grab market share in the running channel…(On is) giving fans something totally different and unique in terms of technology and performance.
To understand what On is doing differently and uniquely, check out their product page.
This product page is thoughtfully designed, user centric and information rich.
It does a great job of not just providing the basic information that the buyer needs, but also shows off the product in the wild. 
And On has a number of unique selling points that attract modern customers:
It has a subscription program for shoes made out of castor beans. So you wear your shoes, and send them in for recycling when you are done with them. 
Its CloudTec® shoes absorb impact while running, reduces strain and is said to adapt to every user's running style.  
They have developed a high-performance foam for shoes by capturing carbon emissions from industrial sources into EVA.
Innovations into sustainability, circular commerce, and reduction of waste appeal to the conscious consumer: according to a report, 31% of consumers will pay more for a sustainable product. 
However, On isn't just relying on product innovation to grow at scorching rates.
In a virtual talk, Owen Morley On's Global Merchandising and Optimization Lead talked about how the company hyper personalized the customer experience to drive growth.
Some key takeaways:
Product recommendations drove 16% of revenue generated, with a 348X ROI.
 CTR increased to 21.65% on product category pages by showing product recommendations based on a mix of previously viewed products and deep learning algorithms based on clickstream data
Product recommendations on out-of-stock notifications (important during supply chain crisis) fetched 2nd highest revenue per impression and had a 11.2% CTR.
And then, there's On's engagement with the running community: it sponsors runs and marathons and runs the On Athletics Club in Boulder, CO where a select group of elite athletes like Olympians and world record holders train for world championships.
Takeaway:  On's growth isn't a fluke. It has a great mix of a unique product, an A+ branding, and positioning strategy, smart multi-channel distribution including owned retail, and deep ties with the community.
NOBULL
NOBULL was founded in 2015 by two Reebok alumni and Crossfitters in Boston, and initially targeted the Crossfit community.
It experienced rapid growth and moved beyond a narrow focus on Crossfit: in the last two years, it became the official footwear and apparel partner for the PGA Tour and NFL Combine.
Unlike Hoka and On Running, NOBULL  has a minimalist and utilitarian philosophy that grew from its founders' Crossfit background.
According to Marcus Wilson, NOBULL co-founder:
"We were tired of brands saying 'wear our product and you will run faster and jump higher.' We thought that was bullshit. We like to say that our gear won't make you fitter. The only thing that will make you fitter is you, working hard, day after day. It's that mentality that resonates so much with CrossFitters."
A look at NOBULL's product page reflects some of that minimalist ethos
The product page isn't flashy at all, and the page design prioritizes function over form. 
There isn't a lot of exotic technology involved in these trainers as it is with Hoka and On Running (in fact, NOBULL trainers are made of only two pieces).
Speaking to Fortune,  Mike Kirtley, VP of footwear design says that:
"NOBULL's design philosophy is all about simplicity and honesty. It's about quality materials that are fit for purpose, adding only what is necessary to deliver the highest level of performance, integrating technology in a seamless way. This approach means there are fewer components and fewer seams to fail, leading to highly durable, comfortable, timeless, products that are built to withstand the toughest workouts and more."
After testing 100+ workouts on NOBULL, a review by breakingmuscle.com states that:
NOBULL trainers good for athletes who focus primarily on strength training…(however) NOBULL trainers may not be suitable for anyone who wants a comfortable sneaker they can wear all day…or for anything high-impact like running, box jumps etc.
And while NOBULLs are said to be polarizing, they have carved out a dominant position in strength training and CrossFit niches.
The brand has maintained its connections with CrossFit: it has been the title sponsor of the CrossFit Games since 2021. 
It also creates a lot of content, mostly around athlete interviews and inspirational videos involving different athletes under the #IAMNOBULL campaign.
Takeaway: Unique content, focused on the underdog, along with the brand's sharp focus on a few sub-niches in the trainer segment should help NOBULL grow in the short to medium term. 
Conclusion
The sneaker business operates at razor-thin margins:
Nike makes $5 profit off a $100 shoe, 
adidas makes $2 profit off a $100 shoe, while 
A retailer makes only $6 profit off a $100 shoe 
While this is a 2016 analysis, an analysis by NYU Stern says that the net margin on shoes (online and offline included) is at 11.17%.
With such low margins, online-only footwear brands will not be able to get guaranteed support from multi-store retail brands in the form of knowledgeable sales associates who could pitch these shoes to customers.
To get around these issues, the 3 featured brands focused on building community and authentic connections with their consumers. They found an underserved niche and they consistently over delivered to them in a way mass market brands weren't.
One of the ways large brands can maintain their edge is to use Talkoot to help them create a large volume of localized content to engage their audiences and connect with them on an individual level.
See how brands use Talkoot's AI to drive conversion.
See how leading brands are using Talkoot to increase conversion and get product content to market faster.
See how leading brands are using Talkoot to increase conversion and get product content to market faster.
See how leading brands are using Talkoot to increase conversion and get product content to market faster.