How AI is changing the game for ecommerce translations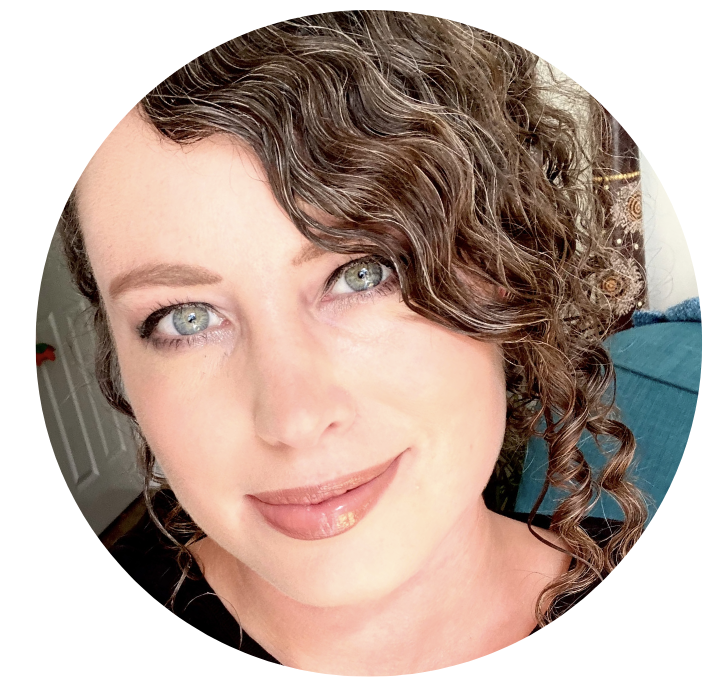 If you're selling across borders, you're likely pumping a lot of money into content localization. Our guess is you're either doing this with the help of regional teams or external agencies, but things are about to change.
There's a meteor on the horizon and it comes in the form of AI. Powerful machine learning technology is helping international companies speed up translations and relieve pressure from their existing translation teams. And, as AI becomes increasingly advanced, it will soon be the norm to bake it into your existing processes.
The 2 most common ways of translating multi-market content
1. External translation agencies
Outsourcing the translation process to a dedicated agency is a popular choice for enterprise brands serving multiple markets. This not only takes the task off your plate so you can focus on other aspects of business, but it also means you can choose highly qualified translation teams for more accurate translations.
The problem? Human translators can range from $0.10 to $0.30 per word which adds up quickly if you're branching out into multiple locations at once. And, despite paying a hefty per-word rate, the translations can be of questionable quality if you choose the wrong agency. This adds to your workload, especially because you'll ideally need a robust review process in place to make sure the translations are the best quality they can be.
The other downside is that the systems many localization agencies use translate sentences word-by-word. Translators can't see any previously translated sentences or see the overall context of the text, which leads to inaccurate and inconsistent translations.
2. Regional teams
Tasking regional teams with translations means you're leaning on marketing or product teams who aren't necessarily professional writers or translators. They know the local dialects, phrases, and cultural anomalies, and can implement this into the content. However, translations are usually not part of their job description, and they often find themselves having to do the work after completing their main tasks. This can lead to sub-optimal translations.
While having people "on the ground" in the markets you want to reach can be beneficial for uncovering cultural trends, the scattered approach to translation can lead to inconsistencies in your brand voice. Imagine you have two teams in different locations. It's hard to unite the tone of voice to create a cohesive experience for both markets—especially when translating tasks often fall to the bottom of to-do lists.
For product content localization to be successful, it's important that translated copy still feels like it's coming from the same brand even if it's targeting two different regions. To make it work, you need to establish an effective feedback loop between your central team and local teams, which can be time-consuming and costly.
See how brands use Talkoot's AI to drive conversion.
How AI is changing the landscape of content translation and localization
AI works by identifying language trends and nuances and applying them to translations at a speed humans just can't achieve manually. Instead of relying on local teams or agencies to diligently translate every single word of your product descriptions and website copy, you can use AI to scan your parent copy and turn it into multiple versions of translated copy in one click.
What was once a fairly arduous, costly task will quickly become a simple process that requires a lot less human input—and this will be reflected in whatever translation method you use.
AI will impact agencies, too, who will no doubt leverage its power to turn copy around quicker and scale translations in multiple languages. It's a win-win for all since AI can learn much faster than humans. It can process vast amounts of information at once and analyze millions of data points, which helps it understand local slang, idioms, and other turns of speech in various markets.
Here are the core ways AI is transforming the content localization landscape:
Increased translation speeds: AI taps into machine learning algorithms to process and translate text faster than any human—and it can do it at scale.
Increased accuracy: Human translators are great, but they can be prone to risks and mistakes, especially with something as nuanced as translation. AI accesses millions of data points to ensure it's as accurate as possible.
Reduced costs: AI translation tools won't replace people, but they do reduce the workload of your existing teams which saves costs.
Speed to web: AI can translate content at a moment's notice, which can help you stay ahead of the competition by being the first to launch a new product or reach a new market.
Understand consumer needs: Localization isn't just about words on a page, it's about understanding the consumers in each market. AI analyses vast amounts of data to get insights into the pain points of each market and the solutions they need.
Scalable: With AI on your side, you can scale your localization efforts to reach as many regions as you want without needing to extend your costs, hire agencies, or grow regional teams.
Better brand consistency: AI can apply translations to multiple different pieces of copy in the same tone of voice regardless of the language.
How to ensure consistency and quality across languages with Talkoot
People trust brands that are familiar to them.
As such, all localized versions of your website and product descriptions should reflect the same tone and branding so it's obvious that it's your brand.
Talkoot's powerful AI translation system has plenty of features that keep your copy consistent regardless of how many languages you translate it into. You can bulk translate copy into 31 different languages and keep track of all changes to the parent copy. Relevant teams are notified when the parent copy is changed so that the changes can be approved and applied to the localized versions of the text.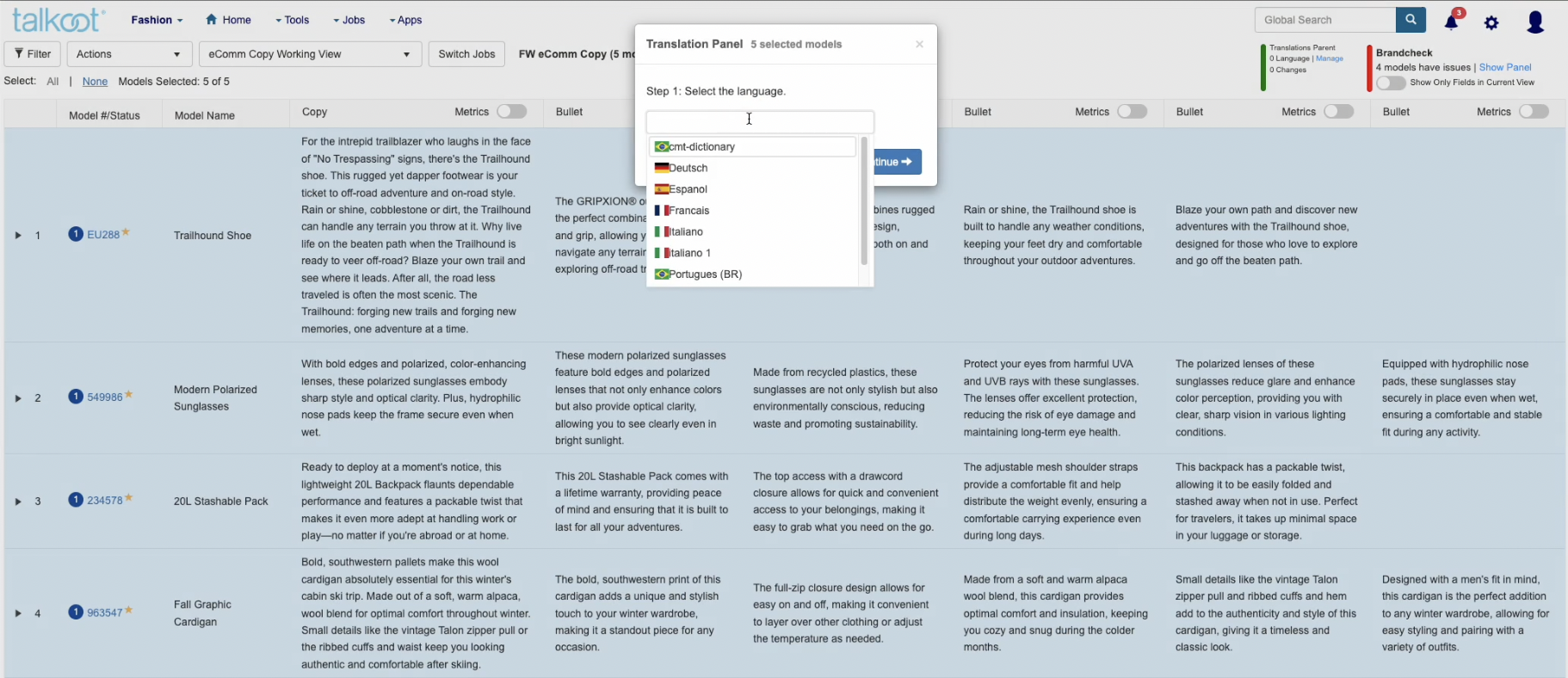 Writers, translators, and AI work together in one fluid collaborative workflow to generate and publish product stories. This creates a central hub with maximum visibility, so you can make sure that product descriptions remain true to your brand in multiple languages.
Another thing to consider is the difference in keywords from language to language—something that AI on its own can struggle with. For example, tool brand Stanley Black & Decker knows that its US audience uses the term "weedwhacker" while its UK audience is more familiar with "strimmer". Talkoot goes a long way in smoothing these language gaps with Brandcheck. You can add banned keywords and approved keywords in each language directory. This allows Talkoot to flag banned keywords so human editors can adapt the copy with approved keywords in the right languages.
Optimize your localization efforts to save time and money
You're managing your translations just fine now, but what if it could be done quicker and at less cost? AI is making this possible with powerful data analysis, machine learning algorithms, and accurate translations at scale. It will soon be a no-brainer to bake AI into your content localization process, if not just to free up the time of your regional teams.
See how leading brands are localizing their product content across the world and book a demo today.
See how leading brands are using Talkoot to increase conversion and get product content to market faster.