G2 names Talkoot the most implementable in the PIM software category

And we are grateful to our wonderful customers who have left thoughtful, detailed and honest reviews.  We could not have gotten here without you.  
You can read all the reviews here. 
G2 is a software review platform for B2B software products. It hosts nearly 1.5 million authentic user reviews for thousands of business software across scores of product categories.  
What do

 G2 reviewers say about 

Talkoot

 
Based on these reviews and ratings as well as social media data and market signals, G2 awards multiple badges to software products in different product categories every four months.   
For the PIM software category, Talkoot has been awarded the following badges for Fall 2021:
1. Fastest Implementation
Talkoot has the shortest go-to live time in its category. This rating is critical in the context of many enterprise products where the onboarding process might stretch to multiple quarters, reducing its perceived value and imposing additional costs.  
With Talkoot, you will need only a few days to start getting results from it.  
As this review highlights, Talkoot pulls this feat off with a customized setup that shortens the learning curve for your team, and a hands-on onboarding process with our customer success team. 
2. Most Implementable
Talkoot has the highest implementation rating in its category. 
G2 evaluates this ranking based on "customer satisfaction with the set-up process for each product" as per their rankings methodology.
The most implementable badge means that your entire team will find Talkoot easy to work with and the adoption will be comparatively painless. 
This review indicates the user experience for a new Talkoot user compared to before Talkoot when they had hacked together their workflow using Excel.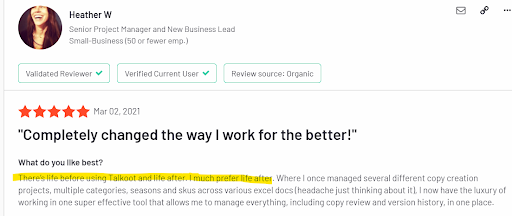 3. High Performer
According to G2, products with the High Performer badge have high customer satisfaction scores compared to other products in their category.
G2 takes multiple factors into consideration for determining the customer satisfaction ratings, including recency of reviews, quality and NPS scores.
Talkoot has scored high because of our client-first approach where we seek to establish a relationship with you, incorporate your feedback and fix issues as and when they occur.
Here's a detailed review highlighting Talkoot's responsiveness to changing client requirements.
4. Users Love Us
The Users Love Us badge is awarded by G2 when a product amasses 20 reviews with 4.0 stars and above.
At Talkoot, we are privileged to have collected 34 reviews and rated at 4.6 out of 5 stars.
Out of these 34, 27 reviews have 5-star ratings.
Leave us a review?
If you are a Talkoot user, we would love for you to leave us a review and let us know how the software is working for you and your team.
It will help us improve the product, and help others who might be looking for a PIM solution.
Want to read more about how Talkoot can help you streamline your product information management workflows?