Must Have Product Information Management Features For High Growth DTC Brands

The unsexy workhorse of DTC growth is the product page where traffic from ads, emails, and campaigns actually converts to sales.
As brands grow, they also tend to increase their product categories and offer more choices, more variants, and more SKUs to customers.
They might also want to expand from just one sales channel (own website) to multiple channels (Amazon, third-party retailer, brick and mortar retail, wholesale, etc).
But this growth train can come off the rails if it's not backed up by backend systems to organize, create and distribute product data.
Enter product information management systems.
Operational requirements of PIMs for high inventory DTC brands
On paper, product information systems, also known as PIMs, hold out an alluring promise. They seek to:
Collect product data from multiple sources  (OEMs, suppliers, ERP, PLM, etc.)
Store it in one place as a system of record.
Distribute it to multiple sales channels automatically.
If you are a DTC brand without any systems to organize and store product information in one place, you might think that a PIM  is an answer.
You would be right and wrong.
See, PIMs have always existed for decades, back to the times when people could buy stuff only off supermarket shelves.
CPG brands (think Campbell's Soup, Kellog's, Heinz)  used  them to store  and syndicate "cold" product information (information that rarely changed) like:
Ingredients and nutritional information
Product name and description
Licensing and compliance information
Date of manufacture and expiry date.
Product image.
As long as the information was accurate, everything was good.
These traditional PIM systems are the digital equivalent of warehouses where product data was stored, sorted, and distributed.
But today's DTC brands operate in a completely different milieu:
Unlike legacy consumer brands, DTC brands deal with a lot of "hot" data that changes frequently, and they need a different workflow.
How DTC brands use Talkoot to keep their stories straight
These brands need a staging area for product copy, where research, writing, editing, reviews, and approval can be handled in one place before the copy gets distributed.
Basically, they need a mix of content studio and project management solution.
Since traditional PIMs have limited product creation and collaboration features, brands need a full-fledged solution to fill this critical gap.
This is where a DTC-focused PIM like Talkoot comes in.
Talkoot has been designed from the ground up to meet the agile and nimble product copy requirements of modern DTC brands.
However, if you already have a fully functional legacy PIM in place, Talkoot can play nice with it (since they are useful in another context).
This graphic shows how many of our clients are using Talkoot in conjunction with other backend systems.
Here's what the workflow looks like:
Product, marketing, and sales teams use Talkoot to create and optimize multiple versions of the same product copy. They pull in raw data from multiple systems of record, automatically using API connections.
These versions, tweaks as per the specifications of different sales channels, are automatically pushed to a traditional PIM.
Product teams combine that product copy with pricing and inventory data, add photos and videos and use PIMs like Akeneo or more specialized data distribution systems like  Syndic8 to distribute it to multiple sales channels.
Once this workflow is optimized, the entire backend hums along like an efficient assembly line.
Because the bulk of work requiring human intervention actually happens in a single system (Talkoot), efficiency increases, and the overall production costs decrease.
Oh, and since Talkoot makes it so easy to get rid of errors like size information, our clients have reported higher conversion rates and lower return rates post-implementation.
Check out this table for a breakdown of how legacy PIMs and Talkoot are different.
Legacy PIMs
Talkoot
Why it matters
DNA: Product Content Storage
DNA: Product Content Creation

Brands selling high-margin products across multiple channels and seeking to build strong customer relationships through product stories will benefit from Talkoot's features.

Mature digital brands will use both legacy PIMs and Talkoot.

Features skewed towards storage and syndication of product data
Features skewed towards collaboration between teams and creation of product stories
Talkoot's features are designed to fit into the agile workflow of product teams of high inventory DTC brands.
Use Talkoot if you need a robust, user-friendly, collaboration-first, content creation tool.
Ideal for low margin products with information-based static content. Product lines are mostly standalone
Ideal for high margin, brand-focused products which are trend-driven and are part of collections or collaborations
Legacy PIMs are complex software solutions that require extensive customization, testing, and training to meet about 60-70% of a DTC brand's requirements.
Talkoot is designed to be deployed rapidly and start delivering results like higher conversion rates and lower return rates within weeks.
If you think Talkoot would meet your requirements, hit us up for a personalized demo.
The Talkoot Advantage for DTC brands
Now that you have an idea of the difference between a legacy PIM and Talkoot, let's drill down into individual features.
First off, here's the specific difference in features: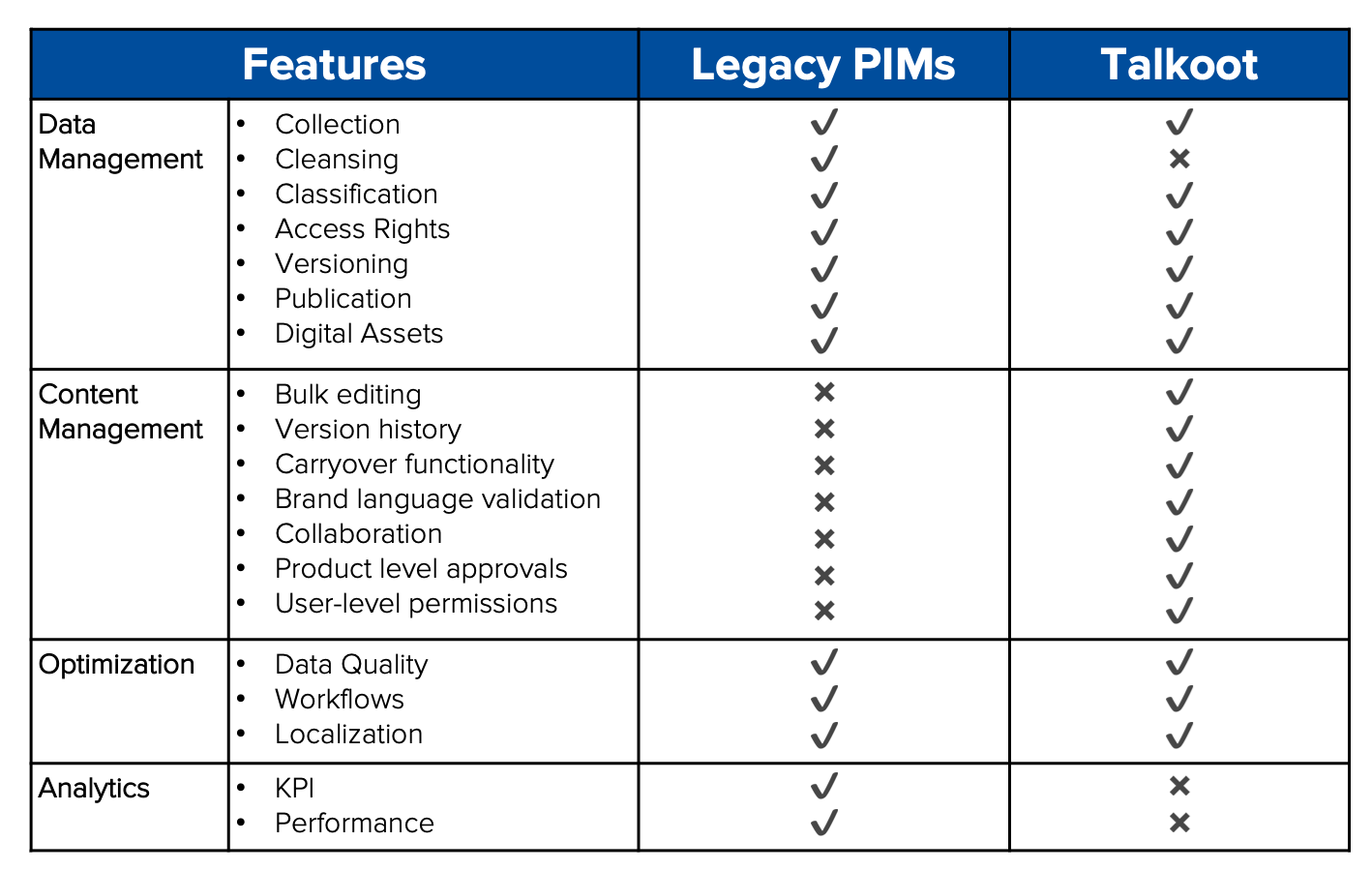 The core product philosophy of Talkoot is to bring everything in the product content pipeline in one single location so that there's one single source of truth for product copy.
Here are the features that most differentiate Talkoot from legacy PIM and will be of interest to  DTC brands.
1. Advanced filtering and sorting
You can quickly filter and sort through multiple attributes associated with your inventory.
Then, depending on your requirements you can edit or review, assign teams on specific product lines, or export only a particular selection to a third-party channel, like Amazon.
2. Collaborative work environment
All communications stay on Talkoot itself, appended to the specific data field that needs changing.
Free your team from the soul-crushing drudgery of hunting through email threads or Slack messages to find that critical piece of information they need to complete the product description.
3. Global find and replace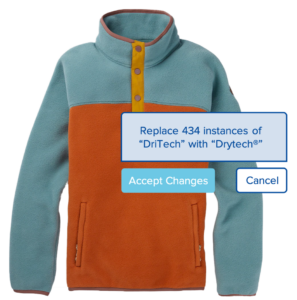 Need to change the terminology in a product description across 2700+ product pages?
Do a single, global search and replace, and voila, the change will be pushed out across the entire inventory instantly, through an API call. Your team has just been saved from the drudgery of mindless edits that could take up hours, if not days.
4. Advanced project management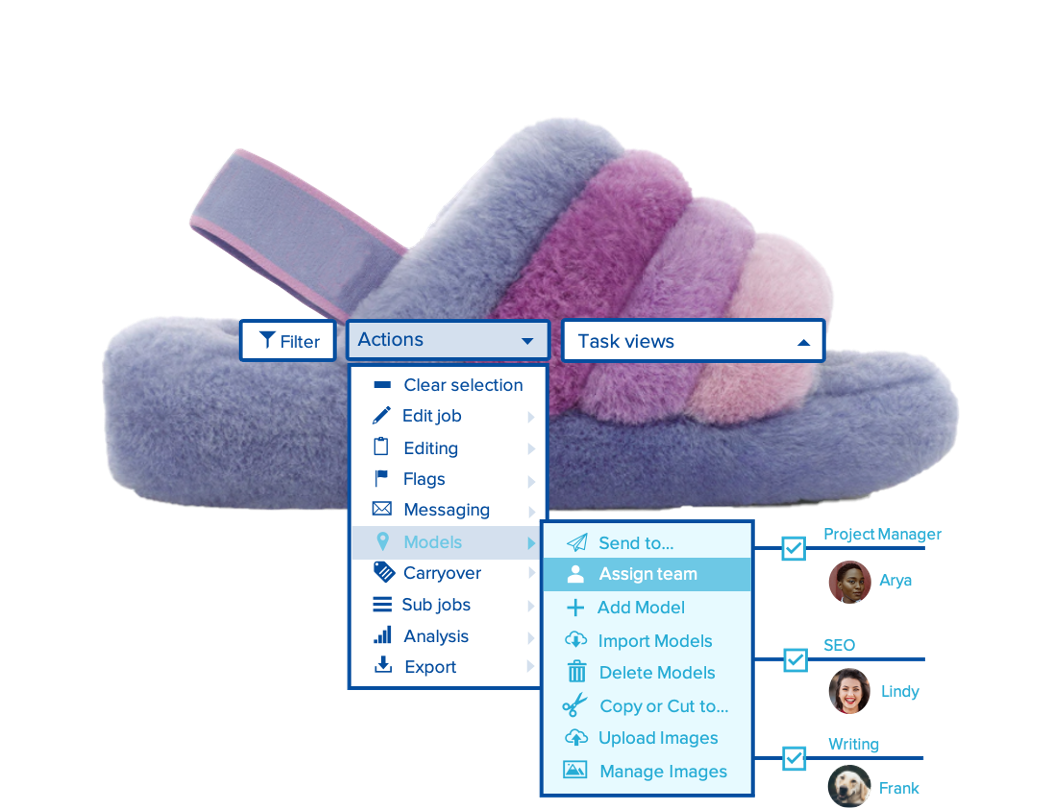 Project management features are baked into Talkoot- it's actually one of the product's biggest draws.
You can not only assign multiple tasks to your team members but at a manager or administrator level, get complete visibility into the status of various tasks associated with keeping the product content updated and consistent.
5.  Configure your workflows
Design and configure your workflows to support your unique channel and product content requirements.
Additionally, you can set up custom task views so that you are not overwhelmed by extraneous information. You can also save these views so that other team members can also use them, maintaining consistent workflows for your brand.
6. Version control
Talkoot has full-blown version control, allowing you to see, at the individual SKU level, the changes made to copy or information by any member of your team.
You can also easily roll back content to an earlier version if required.
7. Fine-grained access control
Depending on your requirements, you can share predefined sets of product information with other people on your team, or even with external users.
These fine-grained access control features ensure that you can maintain information integrity and security without compromising on efficiency.
8. Open API and push-button publishing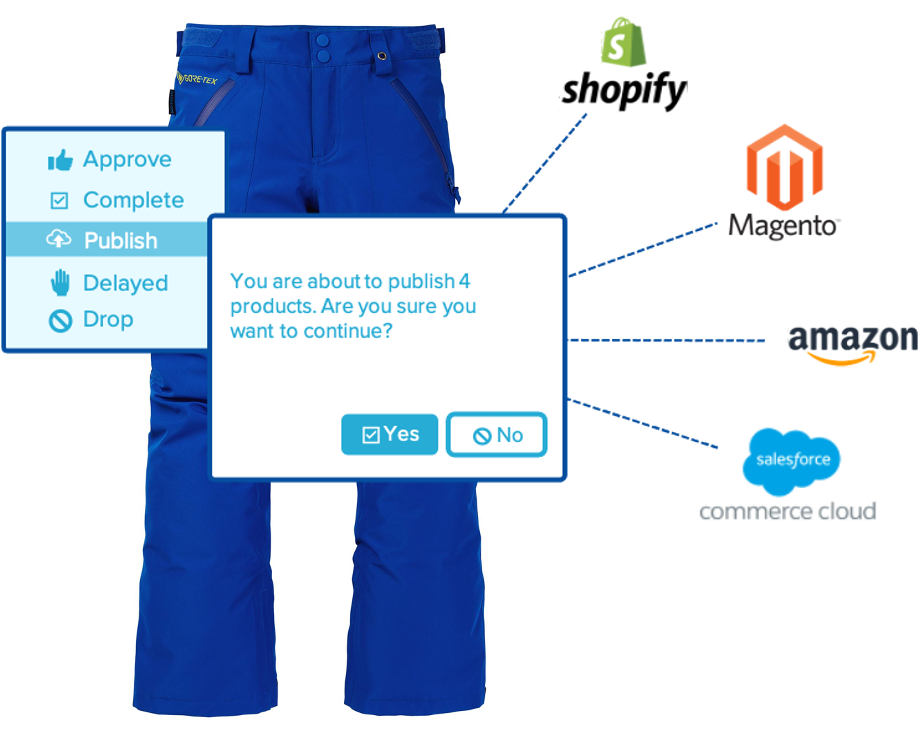 Talkoot's Restful API lets you hook it up to any eCommerce platform or other backend systems.
We have also built native integrations with commonly used eCommerce platforms like Shopify, Amazon, Magento, and Salesforce, giving your store the capability to publish product copy from Talkoot with a few clicks.
9. Multilingual localization
You can work with translators side by side on your product copy in Talkoot, giving your brand the agility and the confidence to quickly launch in multiple geographies at the same time.
10. Seamless copy approvals
Talkoot makes product copy approvals effortless. Legal, brand or product teams don't need to learn a new system  to be able approve new copy.
Just go to the Approval center, login, check the copy already waiting there for your review, and get to work. The options are self-explanatory, and you can further save time by mass approving product content if everything looks good with a few button clicks.
You can also utilize Channel/Category dictionaries to ensure that copy for, say Amazon, differs from the copy published to your own website, right down to differently worded benefits and bullet points.
11. Reusing and repurposing content while maintaining consistency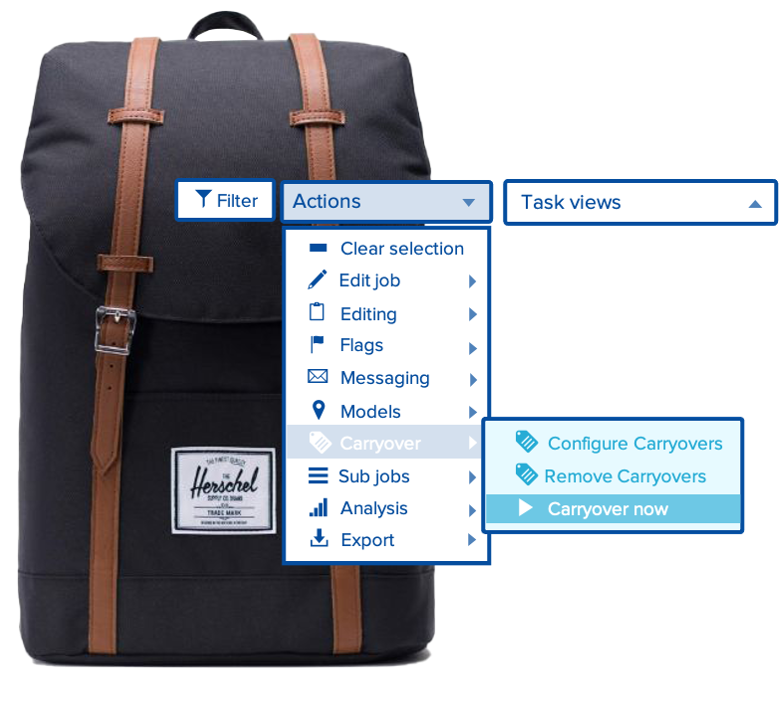 You can easily switch between campaign-specific product copy (think Valentine's Day, Father's Day) and evergreen copy for the same product.
You can also save content, and when required, carry it over to display it when the time is right, saving you the trouble of writing the same kind of product copy over and over again.
And thanks to Brand Center, you will be able to enforce the same standards of copy, right down to usage of acronyms, regardless of whether the copy was written by an in-house or a freelance team.
Talkoot: not just a PIM, but a mindset
Most product teams are stuck on either using Excel to create and manage the copy production phase and if they are bigger, a PIM to store that copy for downstream syndication.
None of these products were specifically designed for modern DTC brands that prize both operational efficiency and customer engagement.
Because Talkoot has been designed by people who were actually in charge of creating product content for brands like Adidas, its DNA is rooted in empowering brands to drive high engagements through product storytelling.
Take a look at this page, for instance (this is from our client, Burton, one of the fastest-growing DTC brands today, according to charm.io data).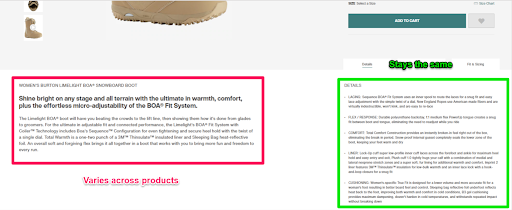 The copy in the red box varies at a product level, while the copy in the green box stays the same, and might vary across categories.
Burton has 1000s of SKU in its rapidly growing inventory, and they can manage this level of consistency because of Talkoot's content creation, collaboration, and project management features.
Here's what Burton has to say about their experience with Talkoot
And here's adidas
Give us a spin and get a personalized product demo. You will come away impressed.