5 Fashion DTC Brands Transforming The Humble Product Description With Irresistible Storytelling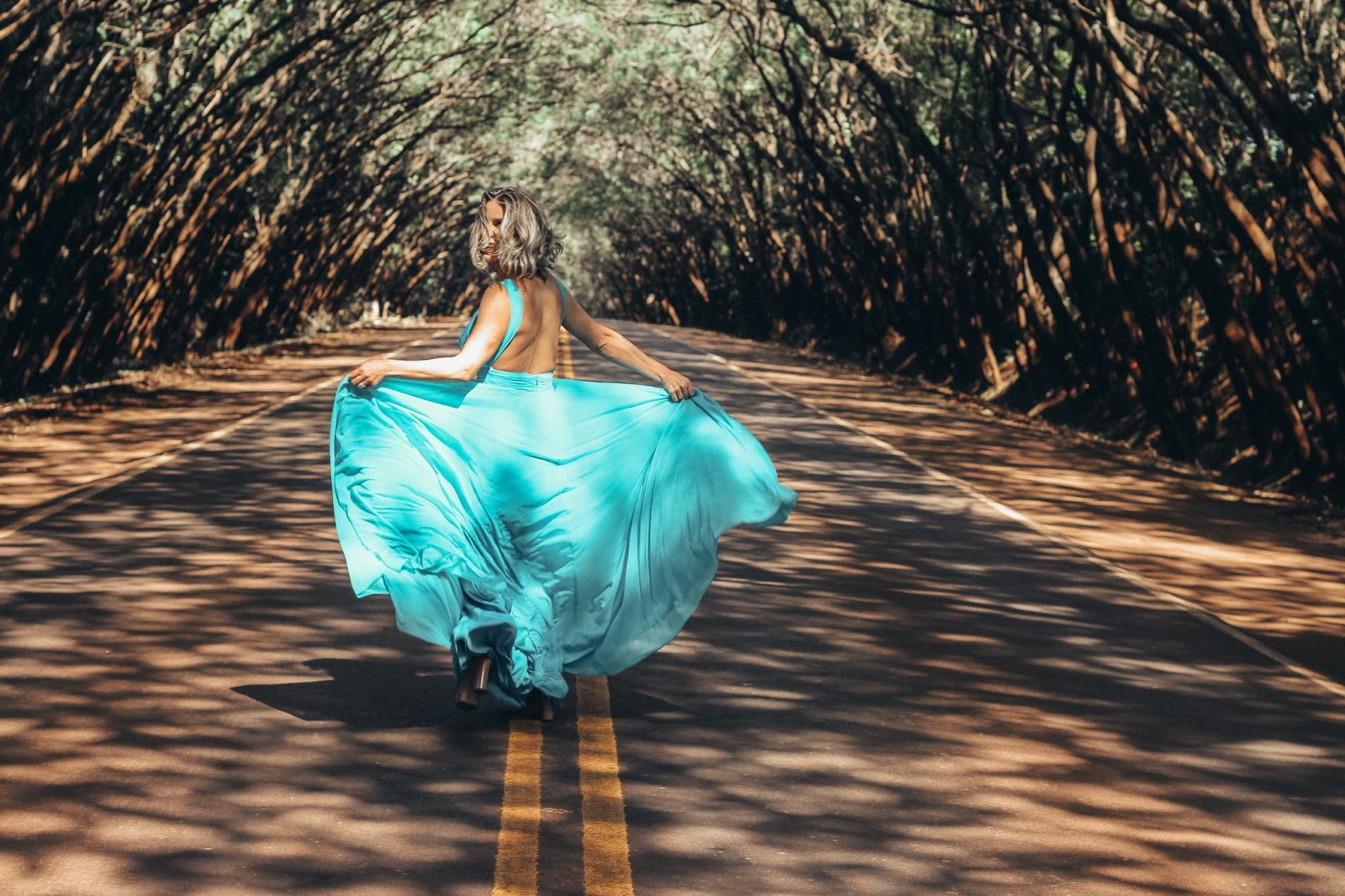 For select fashion brands, 2021 could be the year of exponential growth.
With the pandemic ebbing in America and people starting to throng beaches, bars, and malls, fashion brands are well poised to take advantage of a year's worth of pent-up demand.
As 2PM's Web Smith notes,
Madewell and Anthropologie are seeing a resurgence in dress sales, while Bonobos reports rising demand for suits, dress shirts, and tuxedos. Other retailers say they've noticed a growing interest in trendy tops, wide-leg jeans, even resort wear and swimsuits, as Americans prepare to head back to the office, book summer vacations, and make other post-vaccination plans.
Fashion's resurgence is also reflected in 2PM's DTC Power List where 75% of the top 20 brands are in the fashion space.
The US apparel eCommerce market itself is expected to reach nearly $100bn in 2021.
Globally, the fashion eCommerce market is expected to grow from $525.1bn in 2019 to over $1tn by the end of 2025.
And finally, take a look at some headlines highlighting the shift in consumer behavior.
However, fashion brands can't expect to pick up where they left off in Feb- Mar 2020.
Some things will always stay the same: people will want lower prices, faster shipping, and as wide a variety of choices as possible.
But as Aaron Orendorff, VP of Marketing at Common Thread Collective- an eCommerce growth agency which works with multiple high growth DTC brands- notes in this analysis of fashion eCommerce trends in the context of an activewear brand:
"Breakout success, however, has come from brands tailoring their approach to the needs of their community….Like all fashion labels, coronavirus hit Born Primitive hard…[They]organized a 50%-profit-sharing initiative with gyms across the US.

With "Back the Gyms" as its COVID-19 cornerstone, Born Primitive and CTC transformed March 16th's all-time low into an all-time high with:

+201% YoY growth in 2020
16.31 ROAS (Return on ad spend) during the campaign
And +$180k in donations to local gyms"
Now, even traditional big-box brands that relied on the brick and mortar retail model are wising up to the potential of DTC.
They want to build their capabilities in the more 'intimate' DTC channel to design better and potentially more lucrative relationships with customers.
Adidas is also targeting 50% of its sales from DTC by 2025.
This massive rebalancing of priorities will impose enormous customer acquisition costs on smaller DTC players.
As it is, the traditional DTC growth playbook that emphasized paid social as the primary customer acquisition channel is already wobbly thanks to the iOS14 privacy changes, death of third-party cookies, and a host of other factors.
This brings us to storytelling.
The importance of storytelling in fashion DTC
In a past article, I had covered how storytelling impacts buyer behavior, leading to massive price differences for the same axe.
In that same post, I had also talked about 5 outerwear apparel brands that used different aspects like sustainability and community to build a unique brand identity.
The story, pun intended, fits in even more for fashion DTC.
Fashion brands always had to contend with notoriously fickle customers.
Now, the pandemic seems to have  made things worse.
Image from Common Thread Collective
So how do you keep customers coming back?
One track, unsustainable for any brand except Amazon: slash prices, invest a massive war chest in discounts and cashback, and ignore the naysayers fretting about profitability.
Another, build a connection with customers so strong that people are mad if they are unable to buy your latest product drop.
(As an aside, if you want to understand just how intense the scramble for 100T apparel gets during their very limited launches, check out this Reddit thread titled "Tips for surviving a 100 Thieves drop". It's a doozy.)
Realistically, not every apparel brand will be like 100T in terms of consumer interest and loyalty, nor run its business model only through hyping up drops.
And that's okay.
There are hundreds of brands enjoying the benefits of repeat customers, great word of mouth, and pre-orders, like Revolve.
The question is, how can your fashion brand get into that exclusive cohort, differentiating itself from 100s of 1000s of fashion brands out there?
At Talkoot, we believe that product storytelling is going to be one of the core differentiators.
Talkoot – a PIM designed for DTC fashion
For a primer on PIMs and how Talkoot is designed to fit into the fast-moving world of fashion where new products are released every day, check out this post.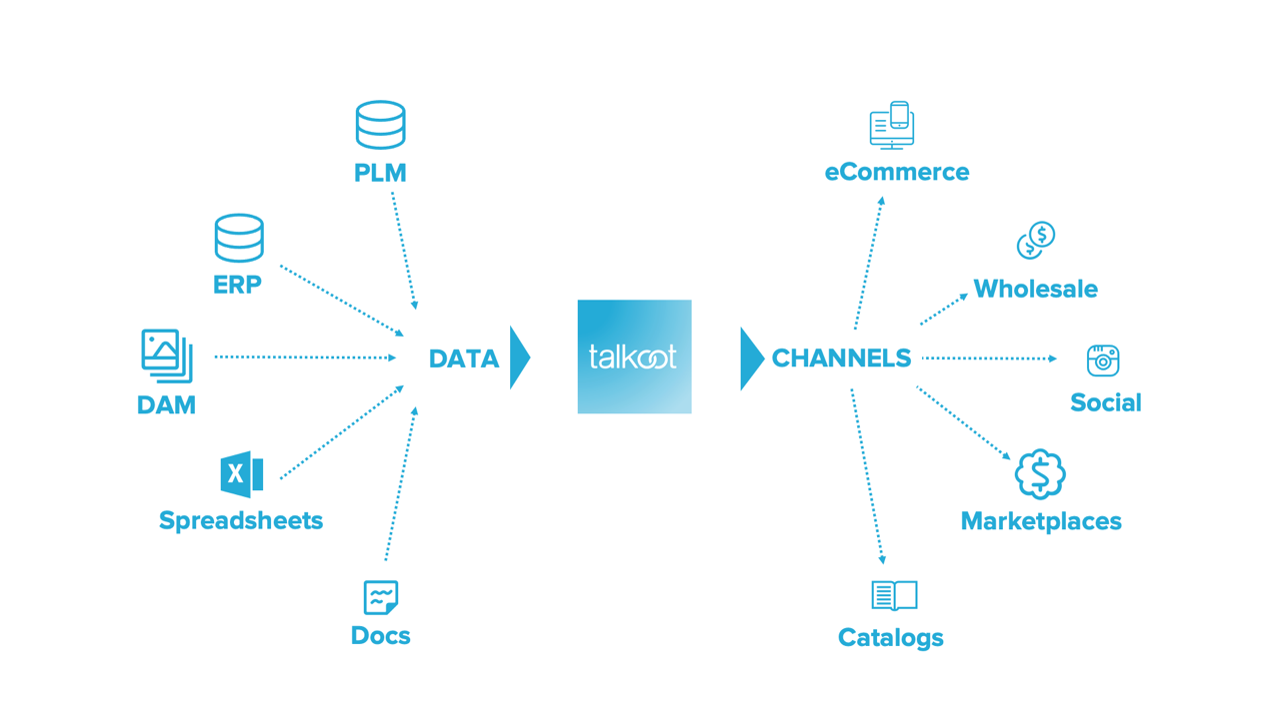 As this graphic indicates, Talkoot helps your team:
pull different types of product data in one place,
create a cogent and consistent product story while simplifying the actual workflows, and
syndicates it across multiple channels.
DTC  conversion rates and brand experience depend on keeping the product content workflow running smoothly while duplicating "the care, knowledge, and attention of a local specialty retailer" on the website.
Consistently creating high quality product descriptions that combine product information with brand personality at scale (over 900-1000 SKUs)  is a key piece of this jigsaw puzzle.
Because, regardless of how many influencers are hyping your brand on Instagram, the vast majority of people are still landing up on your product page and basing their buying decision on the content there.
Even if Facebook's fever dreams materialize and more people start buying directly through Instagram, they will still read a product description, either in the caption or in a pop-up.
That information needs to be updated, comprehensive, and clear, and it should be in line with established usability requirements.
If you screw that up, you are going to be hit with an avalanche of returns while negative word of mouth will spread like wildfire.
So without further ado, I want to present a bunch of best-in-class fashion DTC brands that have nailed product storytelling.
Fashion DTC brands telling great stories
1. Chubbies
Chubbies have been around for 10 years, and they have expanded their catalog from just shorts to activewear, loungewear, and all sorts of apparel designed for men.
Their product pages are a delight for skimmers: witness how easily dense information is broken up into subsections.
This format is perfect for both desktop and mobile because it lets you add rich details about your product without making the customer read through paragraphs upon paragraphs to find pertinent information.
Chubbies also do a great job of showing different features of its product like splash resistance and stretchability using gifs- more dynamic than pictures, but lighter than videos.
Why Do You Need a PIM:  If you can create a product page content structure with reusable blocks, you can copy them in one central location, and apply those blocks to each product page with a few clicks.
This helps you guarantee consistency while empowering your team to launch hundreds of products every day or week.
2. Tracksmith
"While it was the looks that won me over, Tracksmith is, first and foremost, designed to perform. The Van Cortland line is made from a proprietary "2:09 Mesh" that's highly breathable and equipped with an anti-microbial finish, which allows me to get four-to-five runs out of the tee before the funk necessitated a wash."
This review of Tracksmith on a running site captures the ethos of the brand: aesthetic apparel designed primarily for hardcore runners.
And they capture this ethos exceedingly well in their product page that almost looks like a long-form image-heavy pictorial.
Note the storytelling sections on the Van Cortland product page:
In-depth descriptions of  the  technical innovations that make the product useful
A tie-in to a historical event
Stunning product photos that are equivalent to a thousand words
Why Do You Need a PIM: Tracksmith's product stories are written by people deeply passionate about running. This depth of technical knowledge might not always be available in-house, so brands will have to work with freelancers to manage the product content workflow.
A PIM like Talkoot has baked in collaboration features that allow editors and project managers to manage the allocation of work and approvals without getting enmeshed in unwieldy email or Slack threads.
3. Universal Standard
Universal Standard takes a unique spin on its brand story by focusing on inclusive sizing.
Its website says that it is "the world's most inclusive brand with every product in the collection available in 00-40" and the product imagery backs up that claim.
Because sizing is the brand's USP, individual product pages talk a lot about the size and fit in the product description.
Unlike a lot of other brands, their sizing guides aren't an afterthought or generalized but customized to each product.
They also have multiple resources educating customers on how to measure body size. It's a smart business move because the size and fit concerns are one of the biggest reasons why customers hesitate to shop for clothes online.
Why Do You Need a PIM: When you need content assets like product descriptions or size guides specific to each product page, it can be very easy to mix up these assets if you rely on spreadsheets to manage your product content.
With a PIM like Talkoot, it's very easy to ensure that content matches the product, both at the content creation and approval phases.
4. Parks Project
What do you get when you combine fashion with forest conservation?
You get the Parks Project.
This apparel brand's story is entwined with the conservation of national parks in the US, and from product photos in natural settings to the names of the products, they are remarkably on brand.
Their product description might not be as extensive as some of the brands in this roundup, but each page has a bullet point on how every product supports different nature conservancy projects and organizations.
Here's a sampler from five different collections: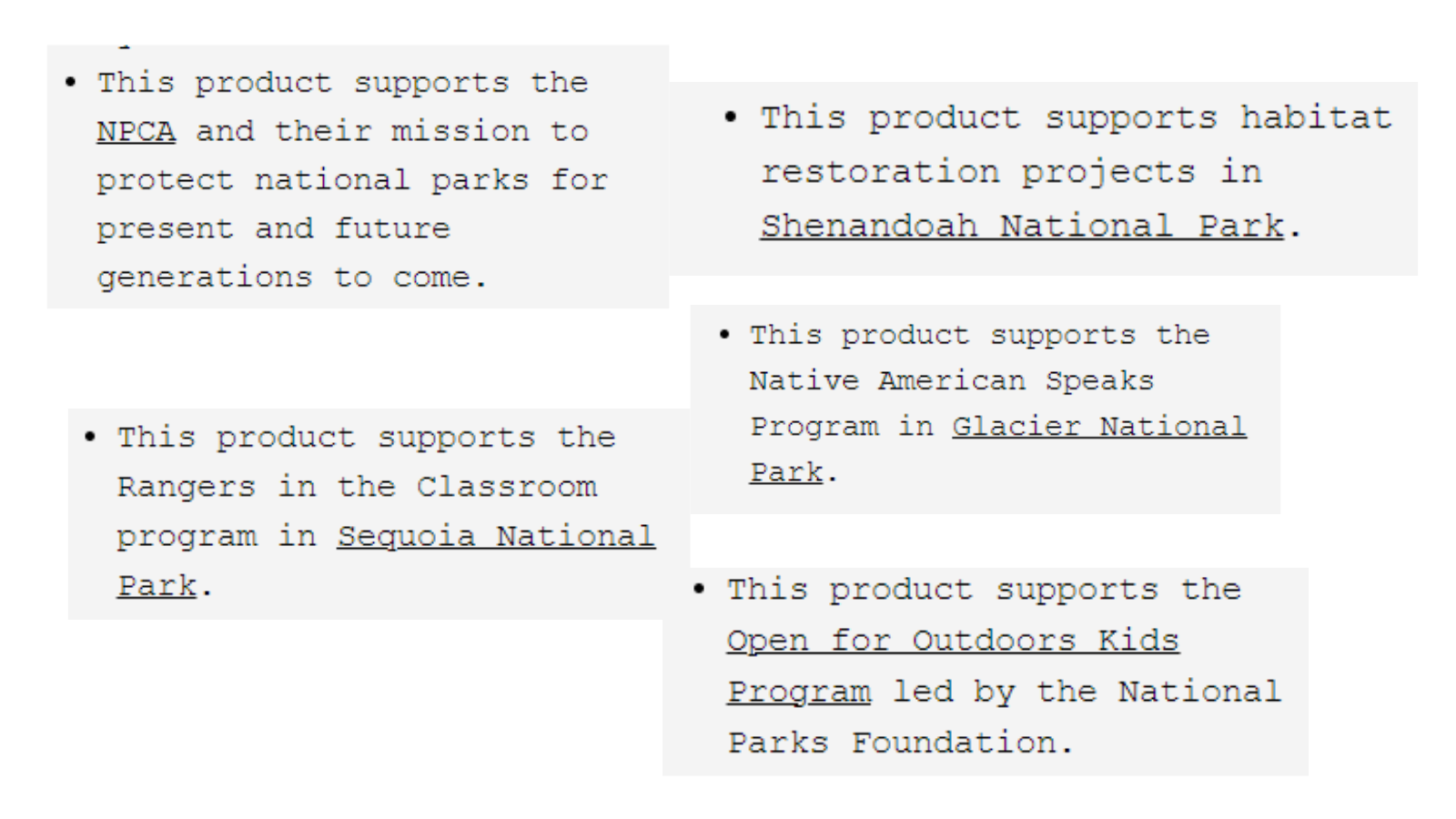 This level of detail is extremely important for your brand story to be credible, given that every other fashion brand seems to be talking about green causes.
The website highlights brand partnerships with reputed bodies like National Geographic and the National Parks. It also details current and ongoing conservation projects the brand is supporting across different areas.
If you landed on one of these pages directly, you might think that you have landed on an environment non-profit website.
But then, if you are a fan of nature and are looking for a hoodie or a tee, you will most likely want to hit the buy button, post about it on Twitter, or volunteer and be a part of a community.
Why Do You Need a PIM: A PIM solution like Talkoot helps you update your product pages easily, and in bulk without needing to individually go into each page.
It can also connect with your PLM system,  letting you automatically pull critical information stored there without making you laboriously copy-paste information across multiple systems.
5.  Lululemon
Lululemon needs no introduction, so I am going to straight-up show how they structure their product pages.
After the essential details are out of the way (price, color, size, product photos, every product page has a "Why we made this" section.
It's a simple question that every customer would be intrigued by.
This structure is a smart way of highlighting 3 core features of the product without making the customer read through every line of your product page.
Beyond the product pages, Lululemon has a whole host of content-rich pages covering a variety of events and people like a 108km endurance run through the Gobi desert and a resource-rich page to commemorate the International Day of Yoga.
Of course, each of these pages also features contextual products that people can buy, thus combining content with commerce.
Why Do You Need a PIM: If your brand is promoting an event (like Yoga day), you can use Talkoot to quickly edit the product pages of yoga apparel to make the description match shopper search intent that will help you rank higher in SERPs and increase the conversion rate. Once the event is over, you can revert to the old content with a few clicks inside Talkoot.
This feature allows your marketing and eCommerce team to work in sync, and eliminate the confusion that crops up often when the customer finds that the product copy differs from the ad copy.
Conclusion
In a recent 2 PM memo, Web Smith highlights the stupendous growth story of Parade, an apparel and accessories brand.
In their first 12 months, they acquired nearly 100,000 customers. The brand did $10M in sales in its first full fiscal year in 2020 with about 70% coming organically. The brand is now valued at $70M.
These numbers are unheard of in fashion, but doable in the world of CPG (consumer packaged goods).
Smith's recommendation is that fashion brands have to turn their products into a utility. Then, customers will frequently pick up products by force of habit, just like they do with their favorite toothpaste, ice cream, or conditioner.
He cites Lululemon as one of the few apparel brands to have cracked that code, all of which was possible because of strong performance and a thriving community.
A community that grows only on the back of a strong and shared brand story.
So, what story are you going to tell your customers?