Mind the gap: How AI is giving retailers a competitive edge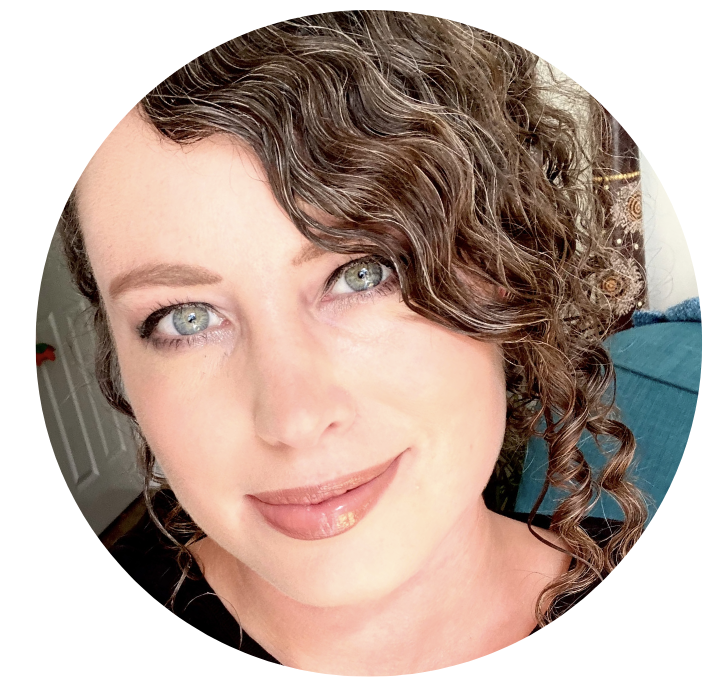 Artificial intelligence. AI. The latest buzzword doing the rounds. Recent advances in AI-powered writing tools like ChatGPT has led retailers to look at ways they can leverage AI to give their brands a unique touch.
Here's the thing: AI is so versatile it can be used to elevate almost every part of the shopping experience. So how do you know where to implement it or, more importantly, how you should be implementing it?
We've researched the myriad ways retailers are using AI ecommerce tools, including making pricing decisions, optimizing their product catalogs, and using predictive analytics to make sure stock levels are kept steady, and have distilled that research into four key AI use cases that are really helping retailers stand out.
Why AI is critical to retail success
The global AI market in retail is expected to reach $31.18 billion by 2028. Brands that aren't leveraging the technology in at least some of their activities will fall behind–because, let's face it, manually trying to personalize product recommendations, reach shoppers at scale, and guess how much inventory you need is near-on impossible and rife with human error.
Investing in AI now, while the iron's hot, will ensure you're ahead of the game—or risk losing customers and business to new, innovative brands that are comfortable experimenting with different tools and tech.
AI helps your customers, which helps your business
A quick reminder: AI learns from your available data, including product preferences and audience analytics, to provide a seamless experience for shoppers. It's the ultimate way to create a customer-centric journey without the guesswork.
By better understanding your customers, you can predict future purchasing behavior and tailor your interactions with them. This leads to increased customer loyalty, higher engagement levels, and, ultimately, more sales.
4 ways AI is giving retailers a competitive edge
1. Managing product information for high-converting product pages
Collecting data is one thing—but it's what you do with that data that will make a difference. AI can help turn cold hard facts and numbers into engaging product stories at scale and on autopilot. It can pull together reviews, user-generated content, seasonal content, and different iterations of product copy to create multiple descriptions in just a few clicks.
Imagine how much time that can save. Instead of painstakingly typing out each and every product description—including new copy for each variation of a product—you can generate high-converting stories in minutes.
💡The How
Talkoot creates, curates, and stores product information in one central place. The specialist technology was built exclusively to generate high-quality copy that ranks well in the SERPs, and the collaborative nature of it means you can focus on high-level strategic work while AI takes care of the rest.
Category-specific models are trained in particular product categories—even better, you can train an AI model on your unique brand language.
Whether it's Amazon copy, DTC copy, content for your category pages, titles, and bullets, Talkoot can generate the right tone and message based on the requirements of each channel without any input from you—the AI product description writer works with the data you already have to create the high-converting, consumer-facing content you need to take your products to market.
AI in action
Outdoor Research produces product copy 4x faster with Talkoot. Using AI helps the team create higher quality product stories across all their retail endpoints in less time, with far less effort.
It's particularly important for brands with millions of products across various categories and countries to streamline their copy if they want to remain consistent. Take adidas, for example. Without Talkoot and their content studio partner, Thread, they wouldn't have been able to produce the volume, speed, and quality of product content the business (and its customers) demands.
2. Optimizing prices to remain relevant and competitive
Pricing strategy is notoriously difficult, especially if you're manually trying to figure out what to charge.
AI helps retailers minimize their margin for error by scanning thousands of products in the same category and recommending a price point. The technology can analyze products by type, target customer, price elasticity, and competitor metrics to accurately highlight the potential ROI for different prices and strategies.
💡

The How
Instead of pure guesswork and manual analysis—which is a huge risk and time-suck for retailers with thousands of products in their catalog—brands are using AI to scan the average prices of products and recommend optimized price tags.
What's more, the technology can automatically change pricing based on factors like current trends and customer loyalty levels without retailers having to move a single muscle.
AI in action
Amazon is the biggest example of AI-driven price optimization.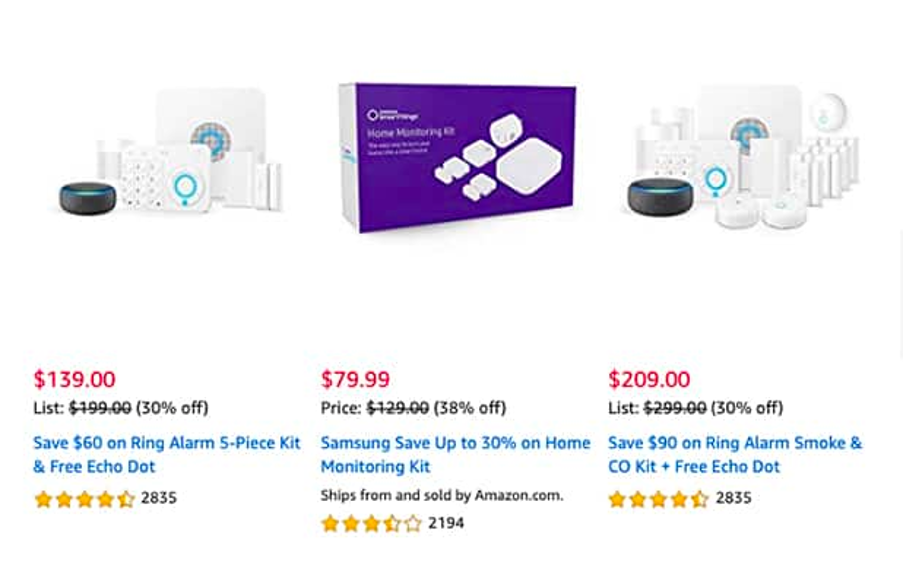 The marketplace is known to update its prices every ten minutes, which means prices can change in a customer's cart depending on their previous browsing history and other personalized factors. It does this by using AI to collect tons of data, monitor competitor prices, and analyze transactions before predicting product sales and setting the price accordingly.
3. Personalizing the customer journey for more enjoyable experiences
Today's consumers expect a personalized experience from the brands they buy from. They don't want to scroll through pages of irrelevant products—and, in fact, they won't. Instead, they'll go elsewhere, losing you a customer and potential future revenue.
To secure customer loyalty, retailers need to create enjoyable customer experiences that are tailored to the individual needs of each shopper, which is 0% possible if you have millions of shoppers visiting your site every day. Not only does this provide a better experience (and ensure shoppers come back), but it also helps you collect useful data about your customers you can use in future campaigns.
💡

The How
Retailers are using powerful AI technology to analyze customer data and serve highly-targeted product recommendations. Not only this, they are using AI to personalize the shopping journey at every touchpoint—from the moment a shopper lands on the website with a personalized homepage, right through to the checkout, where they can recommend relevant upsells and cross-sells.
AI in action
Boohoo uses AI to create dynamic homepages that change depending on where a shopper lives or whether they've visited the site before.
Outdoor brand The North Face also uses AI to help shoppers find the right jacket for them. Customers are guided through a quiz that personalizes their results. AI then uses the data to send product recommendations and communications based on the answers they gave.
4. Removing friction with real-time support
Giving a customer the right information at the right time can mean the difference between making a sale and… well, not making a sale. But it's a huge pressure on your customer support team to have them working around the clock trying to keep up with incoming tickets.
Smart retailers are using AI-powered sales associates and chatbots to automate answers to common questions and help tackle pre-purchase questions in real time. Giving shoppers the option to create their own journeys is a powerful way to personalize the experience and reduce the pressure on your human support team.
💡

The How
AI chatbots are loaded up with answers to frequently asked questions.
They can also learn from patterns and collect customer data to personalize the experience even more. Some can even identify shoppers who are about to leave the page and reach out to find out if they have any questions. They can also track orders, recommend products, guide shoppers to useful content, place orders, collect feedback, and monitor customer satisfaction levels—the possibilities are endless.
AI in action
H&M's chatbot has multiple use cases. Shoppers can search for products using the camera roll on their phone, they can track orders, explore new product lines, and get in touch with a real-life support team.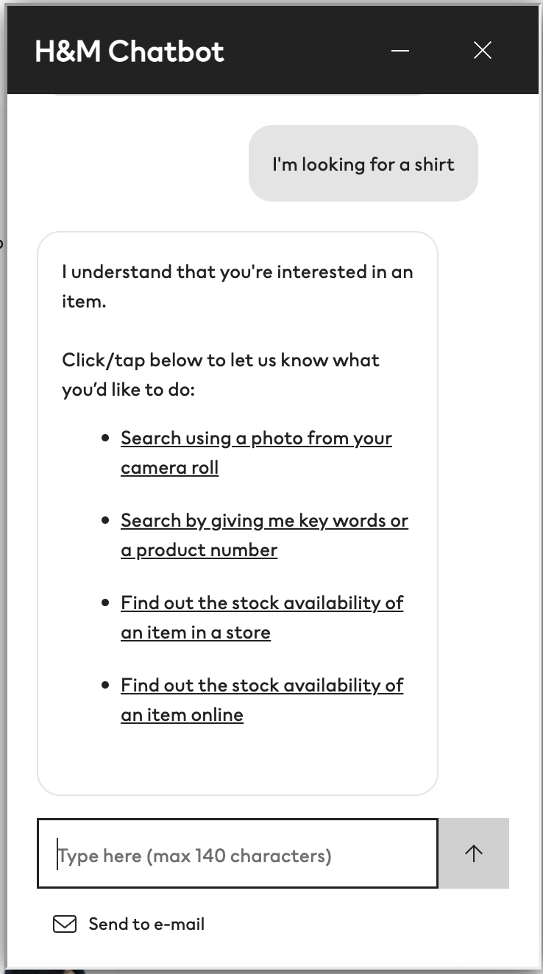 AI is the future of retail
AI will continue to reduce the amount of manual, human effort—but in a good way! It will be a useful assistant for tedious tasks while also using its incredible data-collection and analysis skills to create highly-personalized experiences and seamless shopping journeys.
See how leading brands are using Talkoot's AI copywriting software to produce inspired, detailed product stories that increase conversion while lowering costs and time to market.