9 Ways Talkoot helps agencies craft highly effective product copy for their clients

For eCommerce companies, the product page can be the brand's most powerful asset or its biggest liability. 
And product copy is the lynchpin around which a product page's conversion rate hinges (especially in niches like fashion). 
Don't trust me? Check out these stats that show the impact of improved product copy, as reported by our clients.
While product page design can be programmatically replicated, each page deserves unique, high converting copy that highlights the advantages of the product, tells a story that resonates with the buyer, and makes the purchase a no-brainer.
This part can be time-consuming, especially if you are an agency working with high-growth clients that push hundreds (or thousands) of SKUs online everyday.
The Product Content Logistics Challenges
Many agencies still use spreadsheets to organize, create and edit product content. 
In today's fast-moving world of 2-hour deliveries, that prospect is as efficient as using a horse to pull a sports car and as palatable as Pablo Escobar whiling away his time in his hacienda.
Memes aside, writers collect information from brands and/or clients and transform it into customer-facing stories. Editors and/or clients review those stories and then project managers ensure that the content is published on time (and stays live until a new version replaces it). 
Here's what a typical process looks like:
This diagram shows the number of people often associated with the product copy pipeline.
As you can imagine, without the right systems and processes, the entire setup can be massively inefficient and create a number of hurdles. 
We covered this topic in detail in a previous post but here is the TL: DR version of what could be the ramifications of using spreadsheets and generic software:
Maintaining consistency in tone, language and naming conventions becomes increasingly difficult with scale 

Inefficient processes can eat up agency resources and time, slashing margins (or increasing costs)

Focusing too much on automation and efficiency can result in lower quality copy, which diminishes engagement and conversion

Syncing product copy with ad copy can be a massive hassle, resulting in poor conversion rates and bad CX

Editing product copy after initial publication is time consuming, so valuable feedback from customer reviews is often lost

Manually updating product copy across dozens of spreadsheets takes time from valuable new initiatives and prevents growth
These issues all create problems with scalability, creating bottlenecks and affecting an agency's ability to effectively service their clients. 
The solution?
A PIM like Talkoot which is designed to help agencies manage the entire product content pipeline for diverse product lines across brands, from collaboration to project management to one-click publishing. 
Talkoot: the secret weapon of agencies and writing studios alike
Here are the 9 ways in which agencies can use Talkoot to keep up with client requirements, stay nimble and deliver high-quality content at extremely low turnaround times.
1. Multiple brand engagement
1 brand client or 30, agencies no longer have to toggle between multiple spreadsheets, cloud drives, or documents to manage content.
In Talkoot, it's easy for users to toggle between multiple workspaces to work on different client projects.
What's more, thanks to access controls, managers can assign as many, or as few people to specific projects and maintain appropriate accessibility of data. 
2. Seamless client approvals
Talkoot has been designed to improve communication and reduce confusion and mistakes that come from working in spreadsheets and other systems.
Clients have a designated workspace where they can review product copy in bulk, along with relevant product information, then add feedback or approve with a single click.
Talkoot will automatically keep a history of who approved what copy and when.
3.  Built-in templates
With Talkoot, you won't need to rely on Excel files or style guides to ensure you're following word count and content requirements for each deliverable.
We'll create templates for each type of content or product category so your team can get to work quickly. Plus, you can easily add new or update existing templates at any time. 
4.  Bulk editing
Editing 1000s of product pages one at a time can be extremely tedious and time-consuming, but it is a common enough task as brands need to update product copy regularly.
Talkoot simplifies this process, allowing you to write product copy in bulk (then diversify as needed), find & replace on a global or individual project level, or revise copy for a number of products and run them through an abridged workflow. Never fear having to make a legal change or branding update again.
5.  Content carryover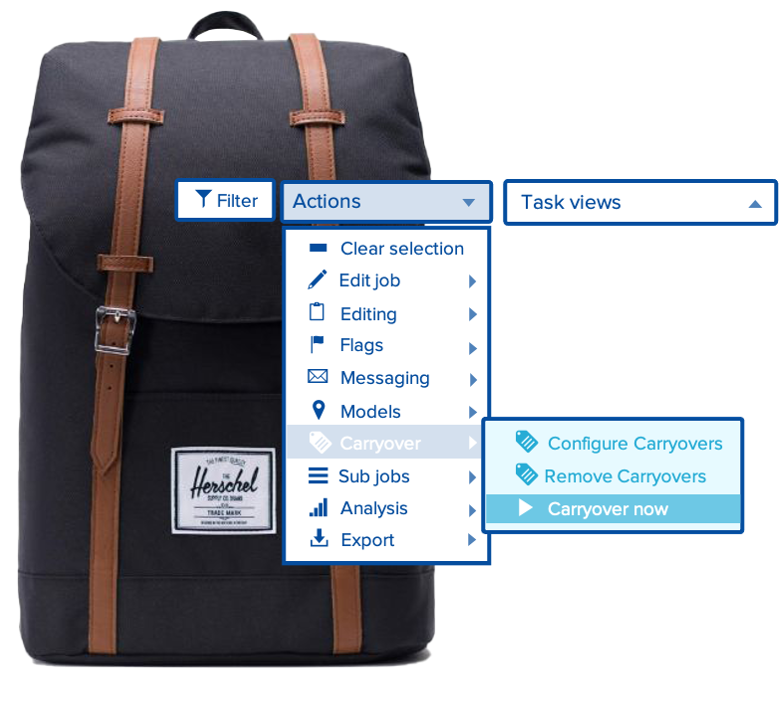 The content carryover feature is another time-saving innovation that allows agencies to reuse previously approved copy, then refresh as needed.
This can be particularly useful when updating copy for campaigns or holidays like Father's Day or Valentine's Day. 
Once the event is over, you can just as easily swap the content back to the evergreen version. 
6.  Customizable views
Talkoot gives you the flexibility to create custom views, helping teams manage information overload by restricting what they're seeing to only those fields relevant to their role.
You can create custom views based on product categories, sales channels, or search results.
7.  Advanced filtering and sorting
 Talkoot makes it super easy to search, sort and filter through your client's inventory for any number of SKUs.
Quickly find copy based on a word, phrase, or list of style numbers (or ASIN, UPC, etc.). Create views to quickly find the content you need. 
You can also assign filtered selections to a team member, edit or review the copy or export the data according to your requirements.
8.  Push-button publishing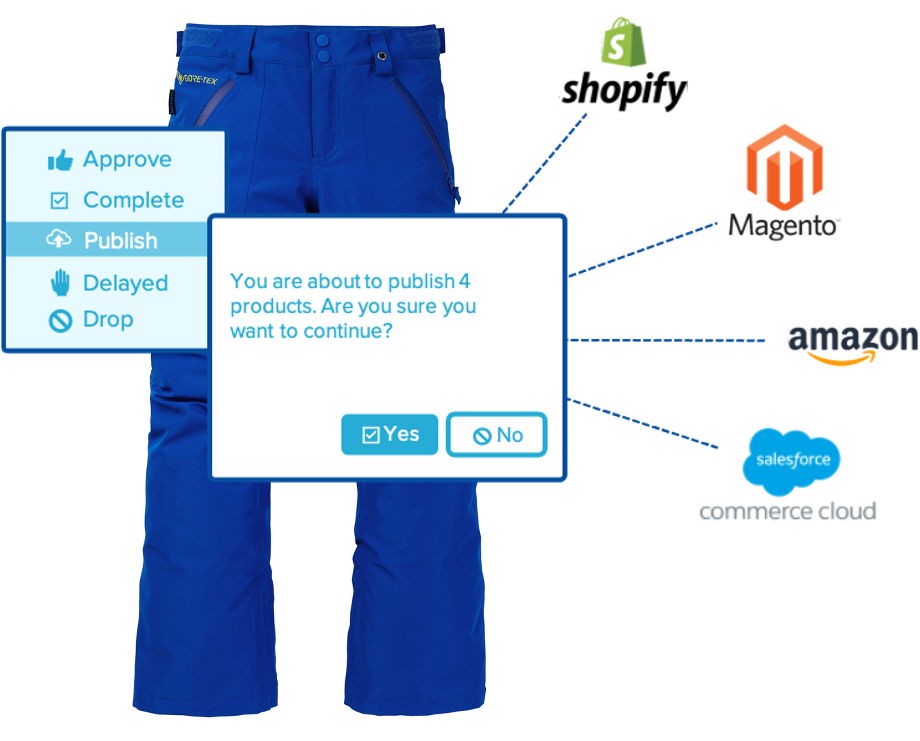 Talkoot integrates with Shopify, Amazon, and a host of popular eCommerce platforms, either through native integrations or our open API.
These integrations can be set up easily, and once the copy is approved in Talkoot, it can be instantly published across these platforms with a single click. 
You can choose to publish content to an individual product page or publish in bulk. 
9.  Brand language validation
Reviewing style guides, banned word lists, wordmarks, and more for every piece of content is one of the most tedious, yet important tasks in the review phase.
Thanks to Talkoot's Brandcheck, possible issues are flagged during the writing stage, reducing the burden on human editors and making it easy to onboard new writers. 
User feedback on Talkoot
Talkoot has been selected as a PIM High Performer in G2 2022 Winter edition, and it has also won the fastest implementation badge in the category.
We have over 35 reviews just on G2, and we are rated 4.5 out of 5 stars.
One agency client on G2 says that: 
As these, and many other reviews highlight, if you want your agency to be a long-term growth partner for your clients, Talkoot is the system for you.
Many of our clients have described Talkoot as the photo studio for product copy, and if you want to be known for creating high converting product content, Talkoot is just what the doctor ordered. 
Need more details?
Check out our features page, and reach out to us to set up a free demo.