10 tips to prepare your product content for BFCM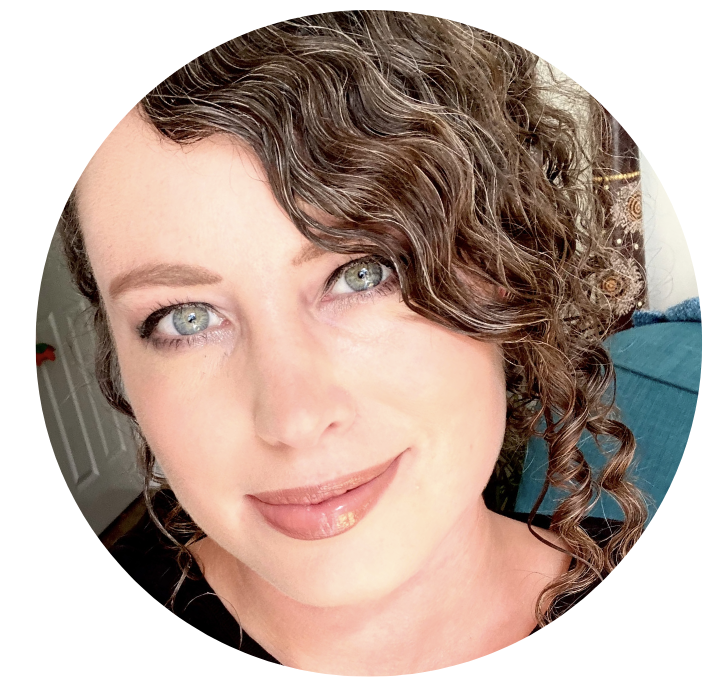 Black Friday online sales passed $40 billion in 2022 and there's more to come this year. Steep living costs and rising inflation mean consumers are more eager than ever to hunt down a decent deal or two. So, if you haven't prepped your product content for the biggest shopping holiday of the year, now's the time to do so.
Here's a guide to getting ahead and making sure your product content works hard for you during the lucrative Black Friday Cyber Monday (BFCM) weekend.
1. Optimize for holiday search intent
The search terms shoppers use inside and outside of BFCM weekend will differ. For example, someone might search for "wireless speakers" in the middle of July and "Black Friday deals on wireless speakers" for BFCM. Optimizing your product pages to reflect holiday-centric search terms can help capture new shoppers and ensure your products make it to the top of Google.
Here's the thing: Nailing seasonal search intent isn't just about adding "Black Friday" to your product titles and descriptions. You need to understand what your target audience is looking for and update your product page copy to meet their needs. To do this, think about the specific features of your products that make them great gifts for the holidays.
You can also create BFCM-specific landing pages for your bestselling products or your entire collection of Black Friday deals. Department store House of Fraser has created a dedicated landing page with a simple "black-friday" slug to store all of its discounts.
💡 Tip: With Talkoot, you can make bulk seasonal updates across your library of product pages. Create multiple versions of product copy in minutes and organize them into seasonal subfolders.
2. Create consistency across the buying journey
Shoppers are overwhelmed with choice during the BFCM weekend, so it's important that your product content is cohesive all the way through the buying journey. That means your copy, branding, and visuals need to be the same from the homepage to the checkout. Not only does this keep the excitement bubbling away, but it also gives shoppers peace of mind—especially first-time buyers.
This brand continues to use Black Friday messaging throughout the checkout to reassure shoppers they're still getting the discount they've been promised.
3. Add countdown timers
Part of what makes Black Friday so exciting is the limited-time deals. Adding a sense of urgency to your product pages can inspire FOMO in shoppers and push them over the finish line. You can add a sticky countdown timer to the top of your website that follows shoppers around the site, or you can add timers to individual product pages depending on what kind of offers you're running.
I Create Art uses a sitewide countdown timer to add a sense of urgency.
4. Make a feature of your discounts
Your discounts are the stars of the show during Black Friday—they're usually what will make a new shopper choose your product over a competitor's. Instead of tucking them away down the product page, turn them into a feature. Make sure you update your prices to reflect your BFCM deals and then use visual cues to draw attention to them. You can add color, increase the size, or design a banner that highlights your best deals.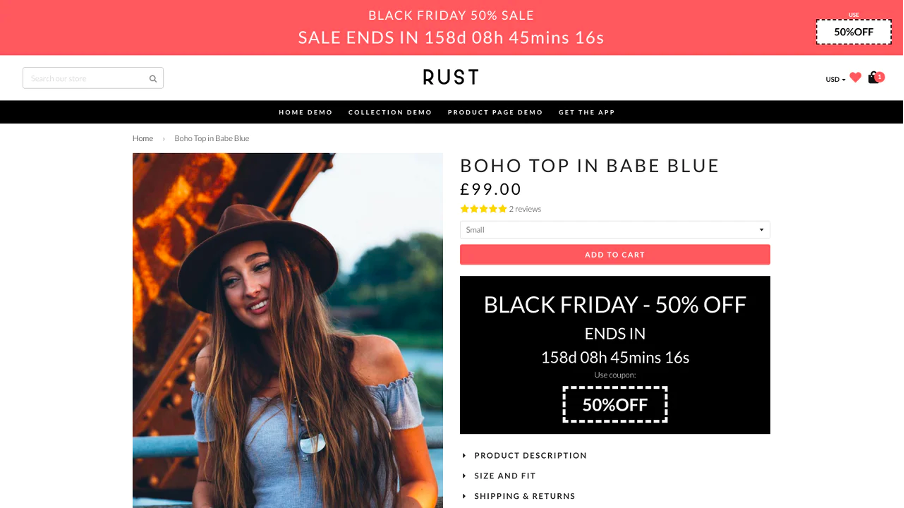 Rust adds a widget to its product pages that highlights it's Black Friday deals. The contrasting color of the widget makes it stand out against the more muted tones of the branding.
5. Encourage quick purchases
The sheer competition during Black Friday means that shoppers have plenty of choice if they can't find what they're looking for in your store. If you want to tap into a wealth of impulse shoppers, make it as easy as possible for them to buy:
Use short product descriptions and scannable bullet points

Tackle objections with an FAQ

Integrate a real-time chatbot that can answer consumer questions

Remove any unnecessary steps from the checkout process

Make it clear how shoppers can unlock your deals
For example, during last year's Cyber Monday event, bedding brand Brooklinen placed an overlay on their website that automatically indicated to shoppers when they had added enough products to their cart to qualify for a freebie. The brand also made it easy for customers to find the Black Friday deals with a clear "shop now" button.
In a similar vein, vitamin brand Feels Good included an FAQ section on its product pages as well as a reminder of the other benefits shoppers would get if they made a purchase.
See how leading retailers use Talkoot to drive conversion.
6. Add social proof
Sometimes shoppers need a little nudge in the right direction. Adding social proof in the form of product reviews, user-generated content, and star ratings can give on-the-fence shoppers the confidence to make a purchase.
Take the watch brand MVMT, for example. The brand includes an Instagram gallery at the bottom of its product pages where shoppers can see real-life customers wearing the products.
7. Recommend other deals
Keep shoppers on site by creating an ecosystem of BFCM deals. You can link to other similar products on each product page or upsell items to a better, more expensive version. This not only exposes shoppers to a wider range of products, but it can help increase the average order value too. Plus, they'll stay on-site longer as they browse through all your juicy deals.
Samsung encourages shoppers to explore more by providing a range of upgrade options on the product page.
8. Create BFCM bundles
Create exclusive product bundles based on customer segments or use cases. You can even create entirely new collections just for Black Friday. But, if you'd rather stick with what you've got, do what Nguyen does with its Holiday Gift Bundles. Shoppers can choose the bundle that's best for them, which introduces them to more products and increases the average order value.
As Black Friday shoppers are often browsing quickly through websites looking for the best deal, it can help to set up a dedicated landing page or category page with all your BFCM bundles.
9. Add shipping and returns information
Shoppers not only want to feel like they're getting the best deal during the Black Friday sales, but they also want to feel secure with their purchases. This means spotlighting your shipping terms so customers know exactly when they can expect their products as well as openly sharing your returns policy so they know how to return an item if they're not happy.
Levi's is very clear about its free shipping offer on Black Friday.
10. Create unique landing pages for different markets
If you sell to a global audience, it's worth tweaking your product pages to match the search intent and expectations of each individual market. You can do this by creating a landing page for each market you serve that feature location-specific messaging, visuals, and shipping information.
For example, Nike has different Black Friday product pages for its UK and US audiences. It changes up the sizing guides, prices, and visuals for each market.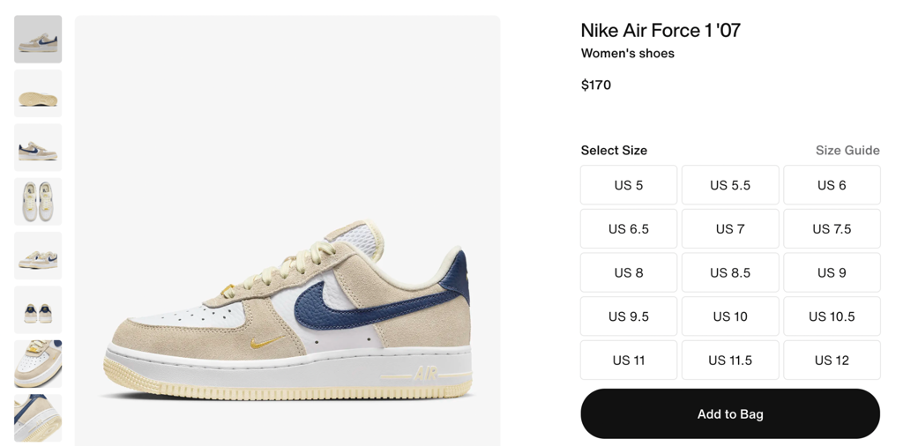 Create a rich product content experience this BFCM
Your product content needs to stand out if you want to capture new customers this Black Friday. It's not enough to slap up a few deals and hope for the best—you have to create a rich content experience.
Make sure you're targeting holiday search intent, add social proof, and use BFCM marketing tactics to create a sense of urgency. But, most importantly, make it easy for shoppers to purchase. These are impulse buyers who are making snap decisions, so create product content that helps them do that. 
See how leading retailers are producing inspired, detailed product stories that increase conversion while lowering returns, and book a demo today.
See how leading brands are using Talkoot to increase conversion and get product content to market faster.
See how leading brands are using Talkoot to increase conversion and get product content to market faster.