The only AI writing generator that produces complete, on-brand product pages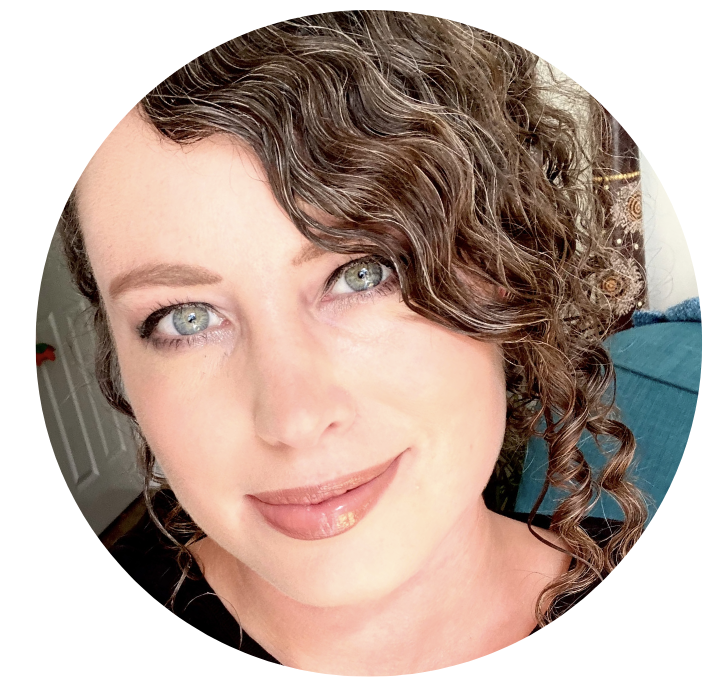 Your product pages are the moment of truth. Will a shopper buy or will they decide to go elsewhere? The pressure is on.
While they essentially act as your digital shelf, product pages do so much more than show off your product—they build trust, position your brand, and help you win the top spot in the search results. One survey revealed that 45% of shoppers consider high-quality images and detailed product descriptions the leading reasons they trust a product online.
Safe to say, churning out same-y product descriptions for your entire catalog won't cut it (and actually might turn off customers). That doesn't mean you have to painstakingly write every product description from scratch, especially if you've got thousands of SKUs! Instead, use a powerful product description writer to populate your product pages with the right information in seconds.
Introducing Talkoot's multi-model AI writer
There are three types of AI writers:
Template-based writers (the most basic)
Rule-based writers
Natural Language Processing or NLPs (the most sophisticated, state-of-the-art AI)
Most AI writing tools are built on a single AI model. But different AI writing models are suited to different activities—which is why Talkoot calls on different models for different purposes. While NLP is the most advanced and creative type of AI model, it can be too creative for, say, search-optimized titles. Accuracy is valued far more than creativity when it comes to titles, so Talkoot uses a simpler, template-based writer that is incredibly accurate but not particularly creative.
For product page elements like bullets, Talkoot uses a rules-based AI writer that relies on a simple pattern-matching algorithm. It's more simplistic than NLP, but it's better at analyzing existing content and producing more accurate feature and benefit copy. It offers a nice balance between accuracy and creativity.
Then you have the elements that need a hearty dose of creativity! Talkoot offers a custom, on-brand NLP writer that generates very human descriptions for every single product.
Compare this to other AI writing tools like ChatGPT that only employ NLP, and you'll often get descriptions that sound human but won't be accurate enough to nail the features and benefits copy or the titles.
How it works: 4 ways Talkoot's AI writing generator produces high-quality product pages
Why not just open up OpenAI's free version of ChatGPT and go to town? Aside from the questionable quality of output, the lack of creativity, and the legal considerations, ChatGPT just wasn't made for ecommerce brands—not specifically, anyway. But Talkoot was. Everything about it was created and optimized with ecommerce brands in mind.
1. Create the right type of content in seconds
Most AI writing tools ask you for prompts and deliver one content format in response to that prompt. Some even require you to input your product data in a standardized way and then add a prompt to get results. Talk about adding hurdles to the process! Not Talkoot, though. Our AI can create everything from titles, descriptions, and bullets to category headers and listing pages, all using your proprietary brand language.
You don't have to plug in a prompt for each specific section. Instead, it pulls information from the data you already have to create a cohesive narrative that includes the most important product page sections, taking inspiration from your brand voice (so your pages don't sound the same as everyone else's—boring!).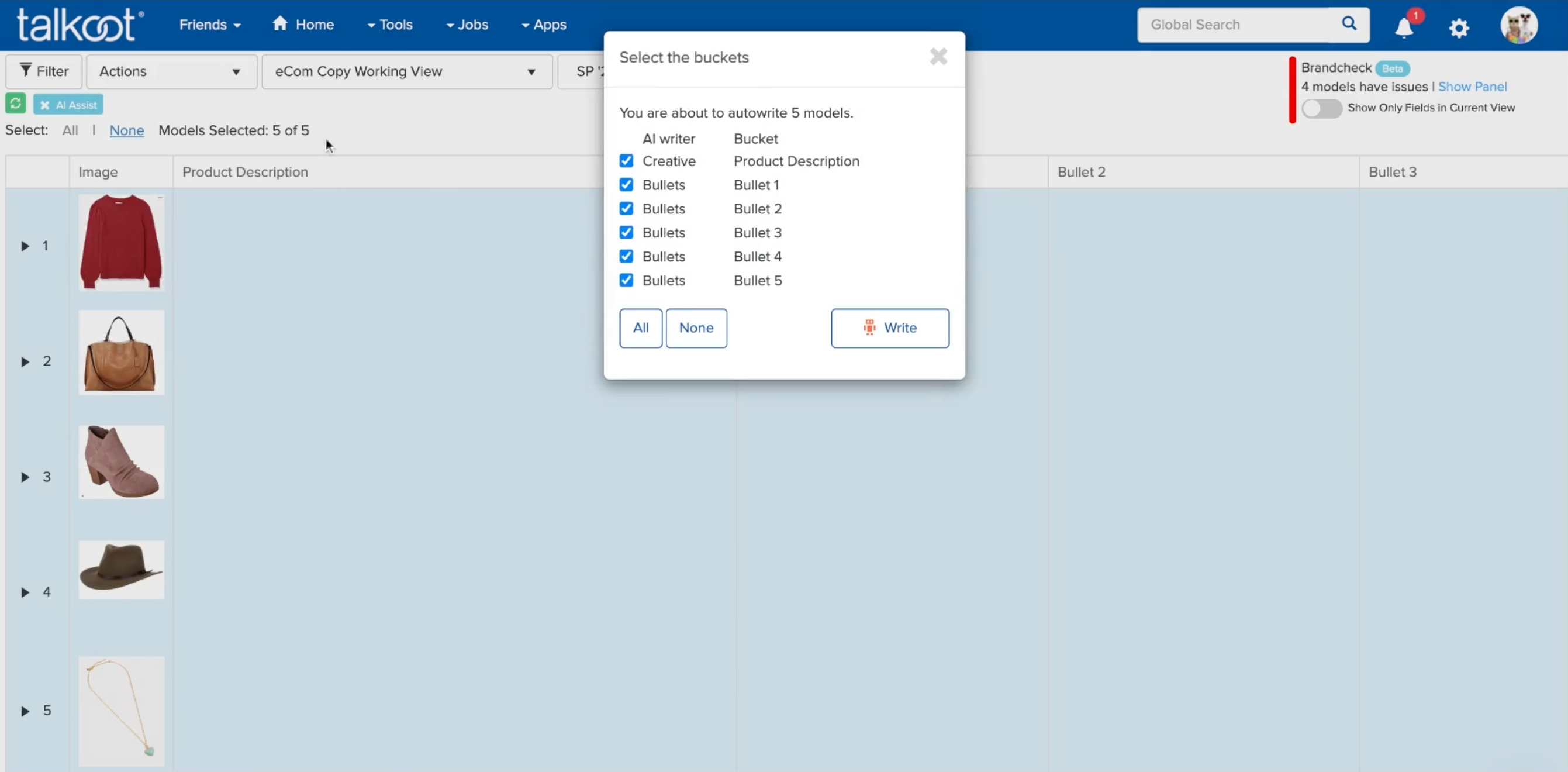 Even better, it stores all content it's created in one central place so your team can access it in seconds. This gets rid of endless email threads entirely and makes sure you're always putting out high-quality, consistent content.
2. Adapt the format based on individual channels
Different channels have different algorithms. Take Amazon, for example, which has a unique way of optimizing content for SEO. Trying to keep up with these changing algorithms for every single platform can be a total nightmare. But, with Talkoot, you don't need to rely on endless Excel files or style guides to ensure you're following the word count and content requirements for each deliverable.
Talkoot's product description writer creates templates for each type of content or product category so your team can get to work quickly. Plus, you can easily add new templates or update existing ones at any time.
3. Keep your brand voice consistent
Creativity is very much hit-and-miss when it comes to AI. Some tools get too creative, while others aren't creative enough. Even worse, they struggle to capture your unique brand voice and inject it throughout your product descriptions, so your product pages end up sounding the same as everyone else's.
Sure, this product description by ChatGPT does the job, but it's boring. It could be written by any brand—there's nothing that makes it stand out or instantly recognizable. Compare this to Fishwife's product description copy which is packed with personality and doesn't just state the obvious.
Talkoot's Brandcheck feature maintains your brand voice while it creates an entire product story without you ever needing to write a prompt for every content element. Our AI generates the product story and Brandcheck will ensure it doesn't include any banned words based on your unique brand dictionary.
This isn't just a generic spell checker. Brandcheck audits your entire product line, scouring for banned words, the correct spelling of proprietary brand terms, and the right words for your industry. It puts your brand language on autopilot. And, if you have multiple sub-brands or different customer segments, you can create multiple dictionaries to make sure you're using the right language in the right places.

See how brands use Talkoot's AI to drive conversion.
4. Optimize product pages for the SERPs
The higher up your product pages show in the search results, the better. But implementing the right keywords in the right places on the right pages can be hard work. Until now.
Load your SEO keywords into Talkoot and let our AI writer weave them naturally into your category pages, listing pages, product descriptions, and titles. Voila, your product pages are optimized for search with very little effort!
The best part is, the specialist technology Talkoot uses was built exclusively to generate high-quality copy that ranks well in the SERPs. This means you and your team can focus on high-level strategic work instead of spending time trying to fit the right keywords into the right sections.
Complete, on-brand product pages in seconds
If you're tired of stitching together product page sections like some kind of hideous Frankenstein monster, you're not alone. But endless Excel spreadsheets and email threads don't have to be the norm.
Instead of entering clunky prompts into AI tools that weren't made to solve the pain of creating high-converting product copy at scale, use Talkoot. Armed with features to maintain your brand voice, create multiple product page sections at once, and combine storytelling with SEO, it's the only AI writing generator that produces complete, on-brand product pages in seconds.
See how leading brands are using Talkoot's AI to produce inspired, detailed product stories that increase conversion while lowering costs and time to market.
See how leading brands are using Talkoot to increase conversion and get product content to market faster.